Every year, we celebrate the lounges offering the best service, experience, refreshments and business facilities, based on the ratings of our Priority Pass Members. We've been doing this for the last 15 years by selecting winners across 5 set regions:


LATAM – Latin America and The Caribbean

APAC – Asia-Pacific

MEIA – Middle East, India and Africa

Europe

See last year's winners, airport lounges based in Ecuador, United Arab Emirates, Latvia, Thailand and Mexico, here.

Did you know, as a Priority Pass Member you're entitled to rate the lounges you visit, and give us feedback on your overall experience? These ratings let us know what you think of the lounges and help us decide our prestigious Lounge of the Year award winners, as well as providing feedback to those lounges in need of improvement. In this post, we'll tell you how to submit your rating and contribute to these prestigious yearly awards.

To rate a lounge on the Priority Pass app, log in then follow these simple steps: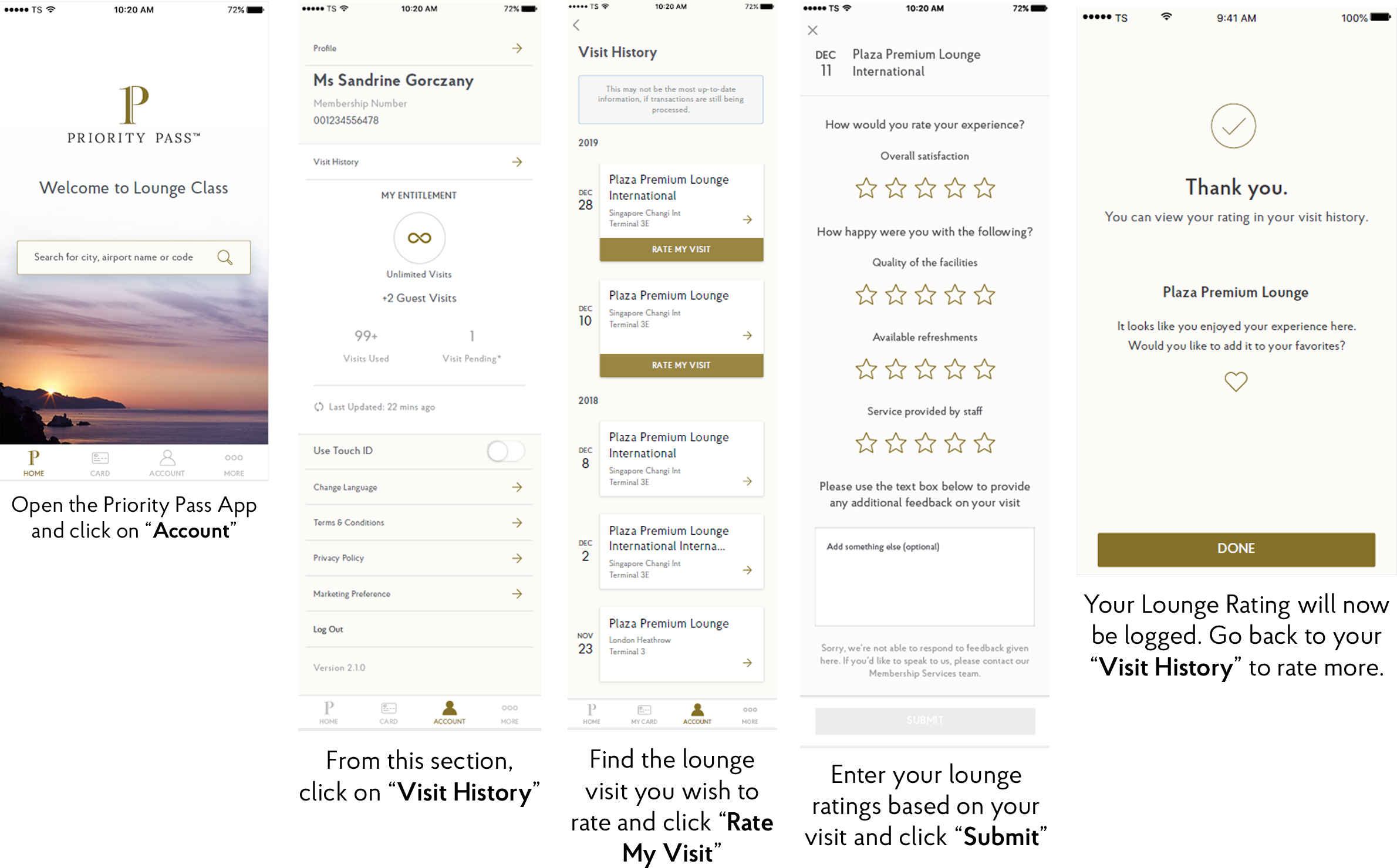 To rate a lounge via the Priority Pass website, it follows the same pattern as the app:

Log in to your online account, using your personal credentials

Click on the "Rate Lounges" tab at the top of your account page

Locate the lounge visit you wish to rate, and click on "Rate Now"


You'll then be presented with the list of questions to complete, and once you're happy with your responses, just click on "Send" to submit them.


We are interested in understanding both your overall satisfaction with the experience and your attitude towards specific aspects such as the selection of food and drink, the quality of business facilities and the attitude of the lounge staff. Your feedback is very important to us – this is what helps us reward excellence, year after year.


What If I Don't Have An Online Account?
You need to have registered an online account using your Priority Pass membership details to be able to rate the lounges you visit. To do this, simply open the Priority Pass app or website, enter your membership number and validation code/web PIN, and choose a username and password. When all fields have been completed, click "Create Account." That's it!


To log in you will need either your username or your membership number, and your password– we would, however, advise you to create a username to log in with in the future. If you ever forget it just click "Forgot your Details" under the log in boxes, and you'll be able to recover it via the email address registered on your account.
If you're using our free Priority Pass app to rate your visits and manage your account, you can also benefit from a host of additional digital features to airport lounge access, such as:
Log in to the app using your fingerprint or Face ID, rather than credentials

Find nearby lounges quicker than ever before when using your phone's location services

Save your favourite and "must visit" lounges to access them from the search screen

Stay on top of your membership by tracking your visit history and offer entitlement

Start your trip early by searching and accessing over 1300 airport lounges worldwide
Save money on dining, shopping and relaxing with more than 800 offers worldwide

Navigate your way around the airport with our helpful Indoor Airport Maps, currently available in 10 major airports.




ENRICH YOUR AIRPORT EXPERIENCE WITH THE PRIORITY PASS APP

Download the Priority Pass app to help you find and access lounges, navigate airports, manage your account and rate lounges. Your voice matters to us!