Did you know, every time you visit a lounge as a Priority Pass Member, you can leave your lounge rating when you log in to your online account on our website. Follow these simple steps to leave your rating:
Visit PriorityPass.com and log in to your account.
Click on "Rate Lounges" at the top of your account section.
Your lounge visits will appear in a list, click "Rate Now" next to the lounge.
You'll be presented with an array of questions with 1 (Poor) - 5 (Excellent) and N/A as options.
Once you're happy with your selections, click on "Send" at the bottom, and your rating will be captured and will count towards next year's awards.
More information can be found here.
So, here are 2018's "Highly Commended" lounges, as rated by our Members.
Regional "Highly Commended"
Eldorado Lounge, Bogota El Dorado Intl (BOG), Colombia
Latin-America and The Caribbean
The Eldorado Lounge is available for Members flying internationally out of Bogota El Dorado International Airport, and is a real treat for those of you who like to discover new things. With access to the lounge, you receive a free ticket to the 'Gold Museum Exhibit' which has over 745 pieces of gold to marvel over – look, but don't touch!
Visitors can enjoy the unique autochthonous design which is mixed in with modern and simplistic furniture and decoration for an enjoyable lounge experience. Alongside the Gold Museum Exhibit, you can test your skills within the sports simulator – unleash your competitive edge! Once you've burnt off some energy, you can relax with a plate of well-earned food from the well-presented buffet, and relax with a long, cold drink (or hot, depending on the weather!).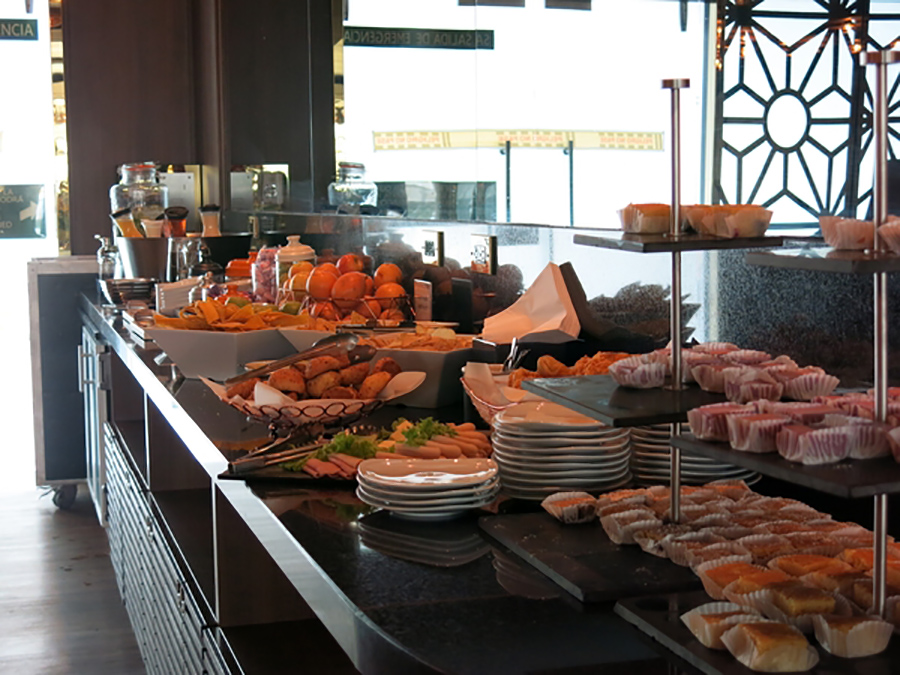 If you like to stay connected, the Wi-Fi available in the lounge is the fastest speed within the airport, so it's worth keeping that in mind before you travel. The team have realised through feedback that one of the visitor's main needs of an airport lounge is the connectivity, so this has had significant investment.
If you're traveling as a family, Eldorado Lounge has an exclusive children's area which is sure to provide a magical time for your young'uns while you wait to board your flight. The area is designed as an enchanted forest wonderland, where the kids can explore and interact, all while letting their imagination run wild!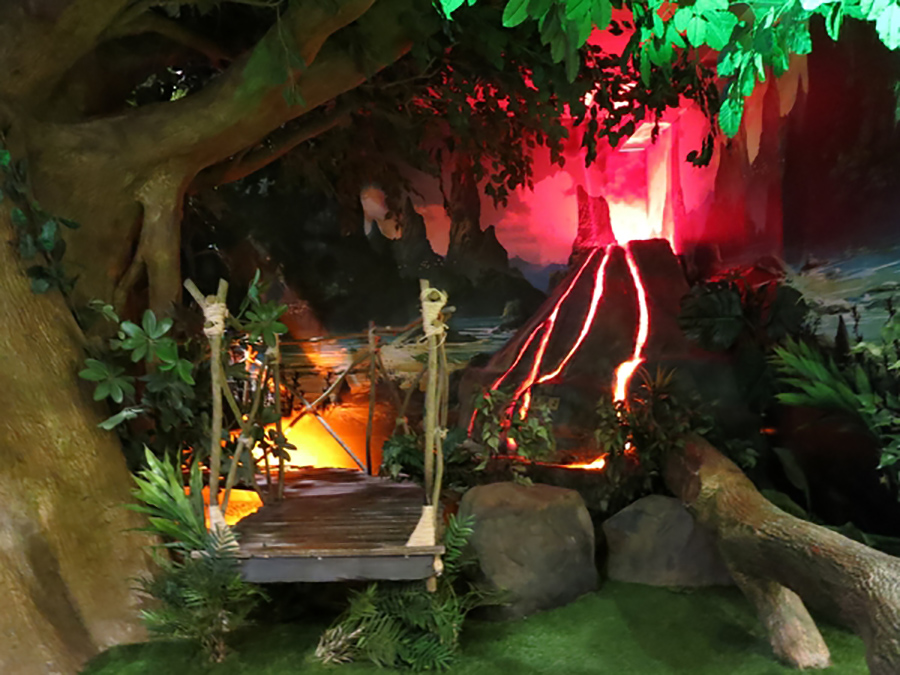 Regional "Highly Commended"
SATS Premier Lounge, Singapore Changi Intl (SIN), Singapore
Asia-Pacific
In order to stay at the top of their game, all SATS Premier Lounges undergo refurbishments every three to five years, listening to feedback received from customers and keeping up with ever changing travel trends to be able to supply the best facilities possible for travelers – and it's no different at the SATS Premier Lounge, Singapore Changi Terminal 3.
You may be about to depart Singapore, but that doesn't mean you won't get a last taste of the local heritage and taste sensations once you enter Singapore Changi airport. The national flower of Singapore is the orchid, and this has been incorporated within the lounge to lend elegance and prestige to the ambience. There's a display of Peranakan porcelain which was selected to reflect the local culture, and is placed alongside a selection of paintings which depict quintessential local scenes.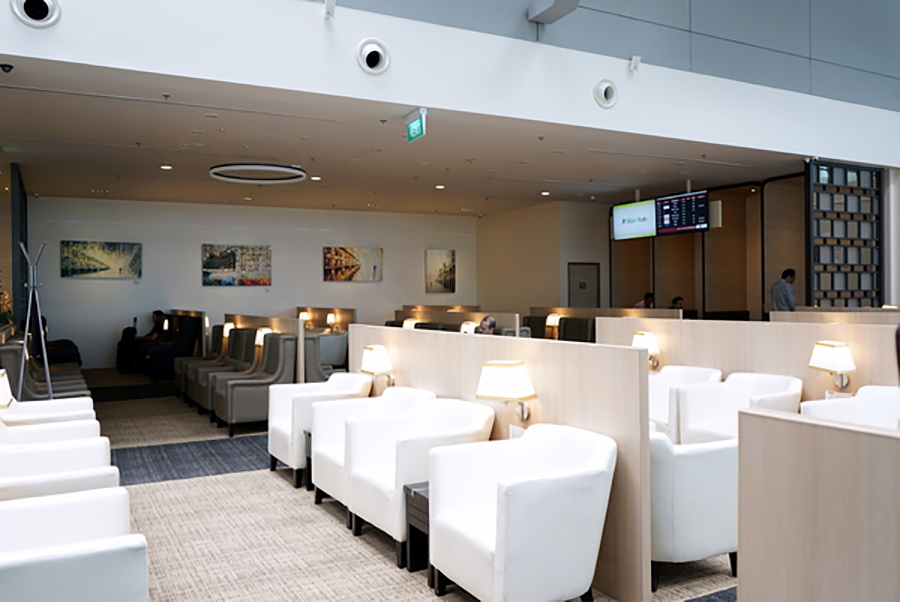 The local history and culture isn't just depicted through artwork, you need to try the food! An experienced team of chefs are led by Rick Stephens (SATS' Director of Kitchens) who produce a delectable menu which features all the local favourites. Their signature dish is the Laksa, which is a favorite through Singapore. Noodles are added to a coconut broth, which can be accompanied with a meat, and served to your taste. You can also try other Singaporean delights, such as Nasi Lemak with Banana leaf Otah, Singapore Carrot Cake, Roti Prata, Singapore Chicken Rice and Chicken Rendang Curry.
So what can you expect from the SATS Premier Lounge in the future? Working with the Singapore Tourism Board, plans are being made for future renovations to provide more "wow" experiences which take the airport lounge further than being just a rest stop.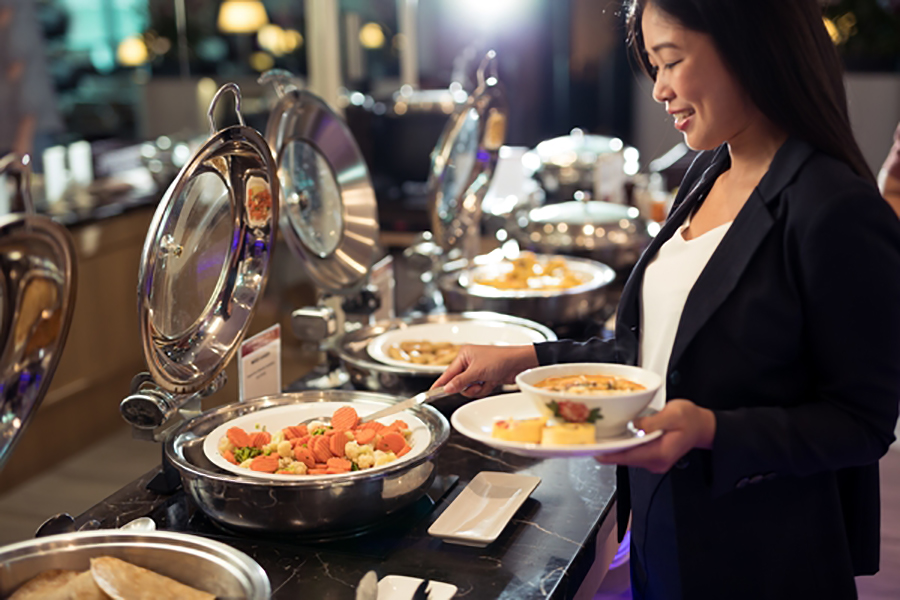 Regional "Highly Commended"
Marhaba Lounge (T3, Concourse A), Dubai Intl (DXB), UAE
Middle East, India and Africa
If you're lucky enough to be flying from Terminal 3 at the supreme Dubai International Airport, then you will be able to visit the Marhaba Lounge in Concourse A before your flight. Its prime location on the mezzanine level allows runway views, so you can sit back, relax, and watch the planes jostle for position on the tarmac – maybe you can spot your plane coming in to land?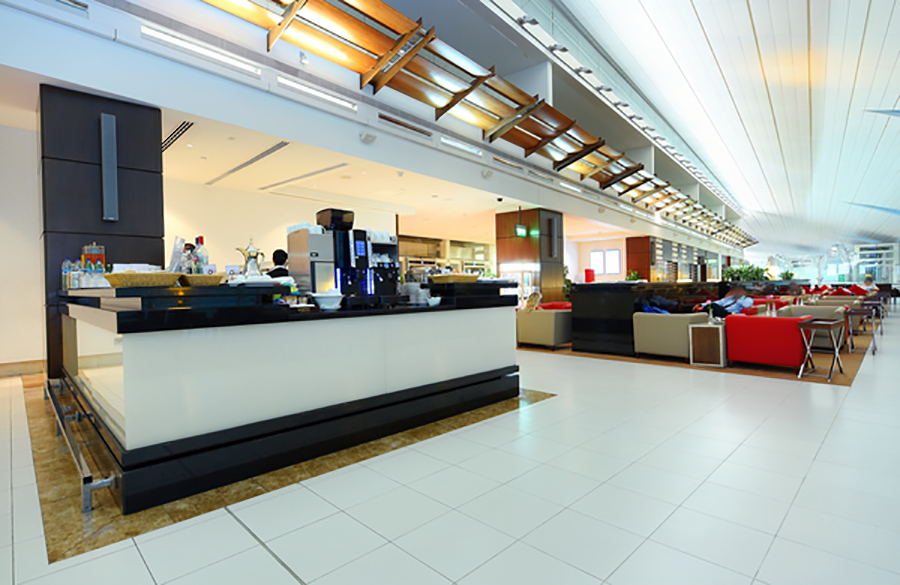 The spacious lounge offers plenty of seating and uses the space well to make all areas comfortable and not crowded for visitors. There are ample seats available which are suitable for every type of traveler. The seats near the buffet are perfect if you're feeling peckish and don't require use of your laptop, there's an area where bed-style seats are available if you're in need of a bit of shut-eye, and there is also a more private option which would suit families as they seating can be transformed into a bed. Ambient lighting is used to create a relaxing atmosphere while you enjoy your food, drink or reading material.
Dubai Intl Airport is a hub for connecting flights; so long layovers are often the norm for passengers traveling here. This lounge gives you the option to freshen up with a warm shower after your long flight, and before your onward journey, so you can relax and travel in comfort.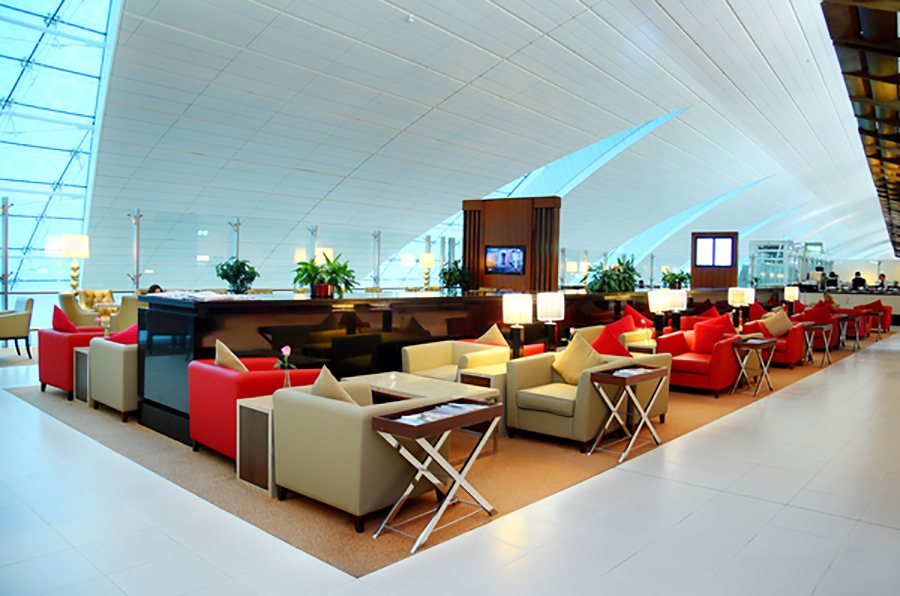 Regional "Highly Commended"
Northern Lights Executive Lounge, Aberdeen Intl (ABZ), United Kingdom
Europe
Opened in 2017 as part of the £20 million ($26 million USD) investment at Aberdeen Airport, the Northern Lights Executive Lounge development was completed in conjunction with The Compass Group UK and Edmont to create a lounge of the highest quality for visitors traveling through the airport. Local heritage is a large part of the theme, with pictures of the city of Aberdeen, the local countryside and the old airport taking pride of place on the walls.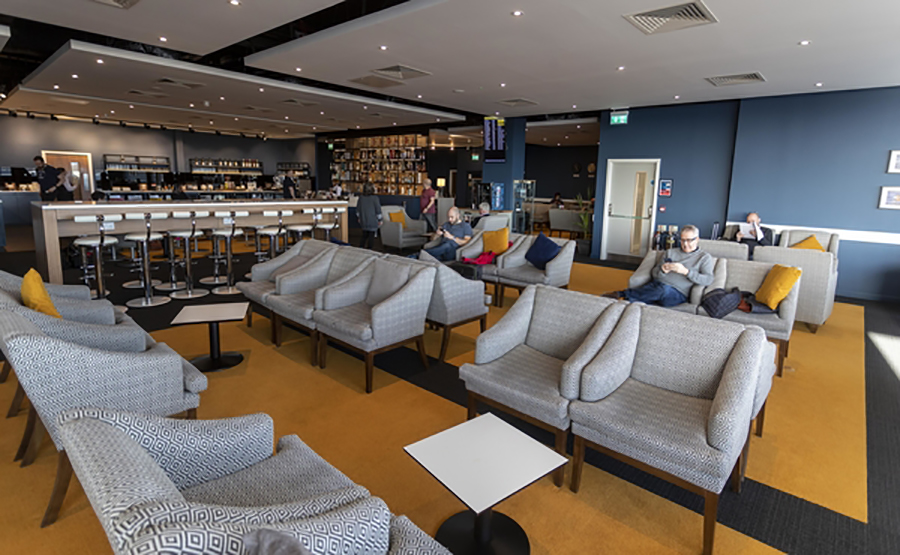 Within the amenities of the lounge, you can expect to taste some local food and drink. Brewdog beer is available behind the bar, their headquarters are located around 10 miles from the airport, Summerhouse Drinks are also available, which are a range of real lemonades and craft sodas for a local non-alcoholic option. Some examples of the local food come from Barra Berries, which is the jam used to accompany scones, The Bay Fish and Chips provide fishcakes from Stonehaven, which is just south of Aberdeen, plus Deans Shortbread, Grants of Speyside (Haggis), and Cambus O May Cheese. You're in for a right treat!
The Northern Lights Executive Lounge has many "wow factors" within, the panoramic views of the runway and helicopter operations means that you can marvel over the aircraft movements, hand soap and lotion is provided by the local Gordon Castle Estate, where the ingredients have been grown within the walled garden in the castle, and Gallery Heinzel, a local art gallery, have a large display located within the lounge, where you're able to purchase your favourite pieces.
When it comes to drinks, the Whisky wall has up to 100 local whiskies available for you to try, including the Northern Lights teams very own Glen Garioch Reserve Cherry Cask. The gin wall has up to 20 local gins available, let your senses find your taste then select your tipple of choice. Make sure you don't miss the head chef's signature dish once you've found your drink of choice – Aberdeen Angus Sliders with Chutney, and accompany it with an array of home-made soups, pastas and salad dishes which are tweaked seasonally.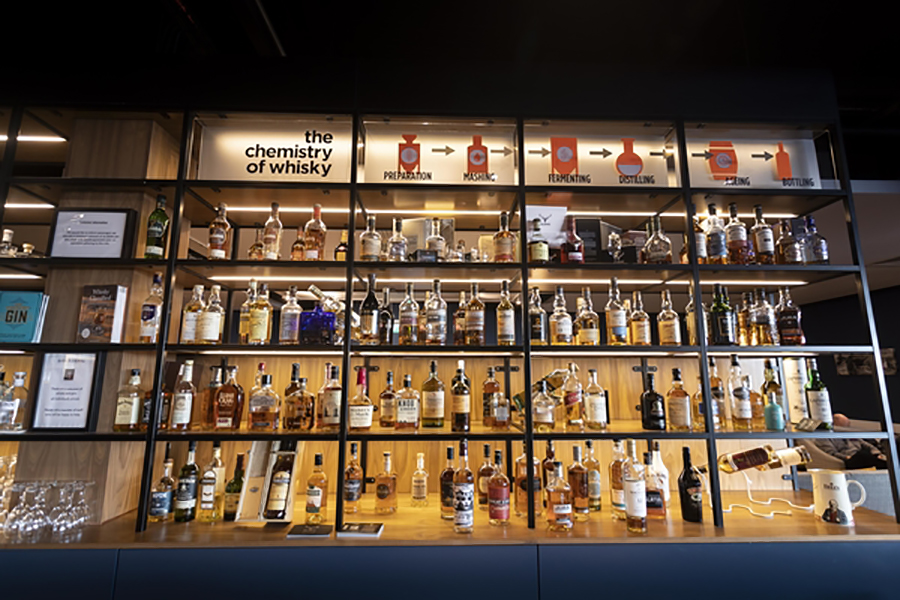 Regional "Highly Commended"
The Club MCO (Terminal B), Orlando Intl (MCO), USA
North America
The Club MCO provides a spacious, clean and calm getaway from the airport terminal - perfect for some pre-flight sustenance. As you step in to the reception area, you're greeted with a calm presence and an excellent starting point for your visit. Step into the lounge, and you'll see more of the same. Seating areas are split to suit your traveling needs – workstations are available if you would like to use your pre-flight time to catch up with some work, more formal seating so you can enjoy food and drink with friends and family at a table, and seating at the bar if you're looking for snacks and drinks.
In terms of food availability, you can be sure that there will be something for you. A selection of food is served within the buffet, including salads, sandwiches and crisps. While hot soups are also available, alongside noodle pots, snack bars and cakes/pastries. Soft drinks are available as a self-serve option, saving time queuing at the bar. The bar is fully-tended, with a large selection of alcoholic and non-alcoholic drinks, with the perfect accompaniment, pretzels and nuts!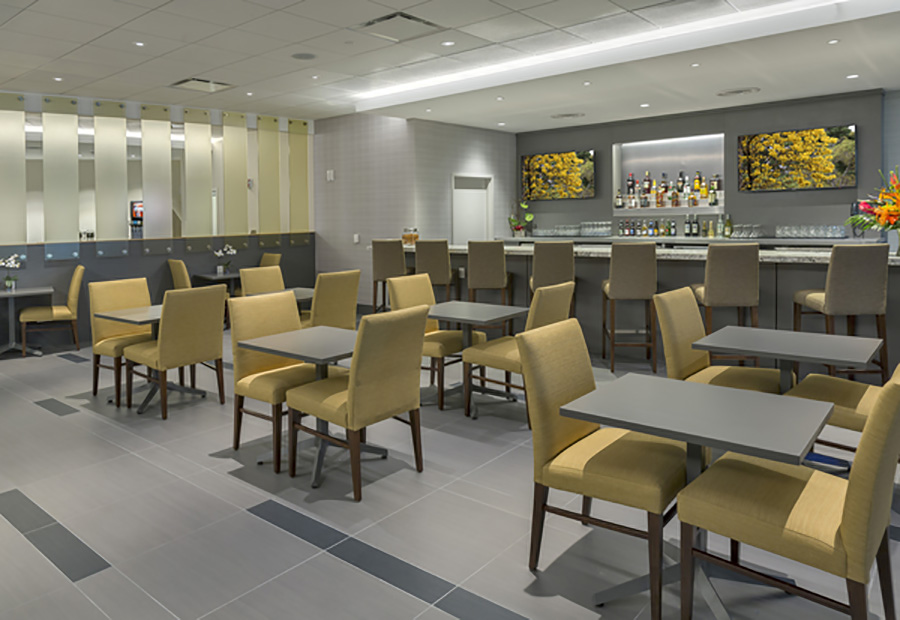 Shower facilities are available at The Club MCO, the spacious facilities are suitable for everybody, with a variety of soft towels and flannels, toiletries, and a vanity table with large mirror and wash basin – the perfect place to freshen up after being in the humid Florida climate, especially if you've been checked out of your accommodation for a few hours before arriving at the airport.
If you're traveling with kids, there's an excellent 'Kids Corner' where games consoles are available, as well as TV and desk for colouring and reading. The decoration suits the young and old, with fun takes on all your favorite Disney characters (of course!).