We've all been there, wandering through lines of seats by the gate at the airport trying to spy a seat to rest our feet while we wait to be allowed on the plane. It's a fine line, turn up at the gate early to get a seat, but end up waiting for an eternity, or spend the time browsing through retailers and allow the anxiety of missing your flight to build. There's got to be a better option. And we all know lounges have always been the most luxurious way to spend time at the airport before a flight. The opportunity to relax and unwind, eat and drink and maybe even catch up on some work is definitely preferable to searching for a seat in a crowded terminal.

But now, lounges are a haven to escape the terminal for different reasons. With the threat of the pandemic and the risk of person to person transfer being greatest in high foot traffic locations, the social distancing and seclusion available by entering a lounge is becoming even more desirable. Lounges have dedicated lounge staff cleaning and sanitising facilities to help reduce the risk of transmission during your time in the airport. Escaping the terminal and crowds has never looked so good.

Priority Pass has collaborated with lounges to create a series of recommended guidelines and steps to help make sure that lounges are able to put you and your safety first. But it's not just increased cleaning in a lounge which helps reduce the risk of transmission that make lounges the best place to wait for your gate to open. The guidelines and improved standards cover every aspect of your visit. One of the changes you'll notice when you get to a lounge is the way you enter. You may have your temperature taken, there will often be a screen between you and the lounge staff, and everyone will be wearing masks. And we definitely recommend using your Digital Membership Card. It allows for contactless entry, and it's accepted at all lounges on the network.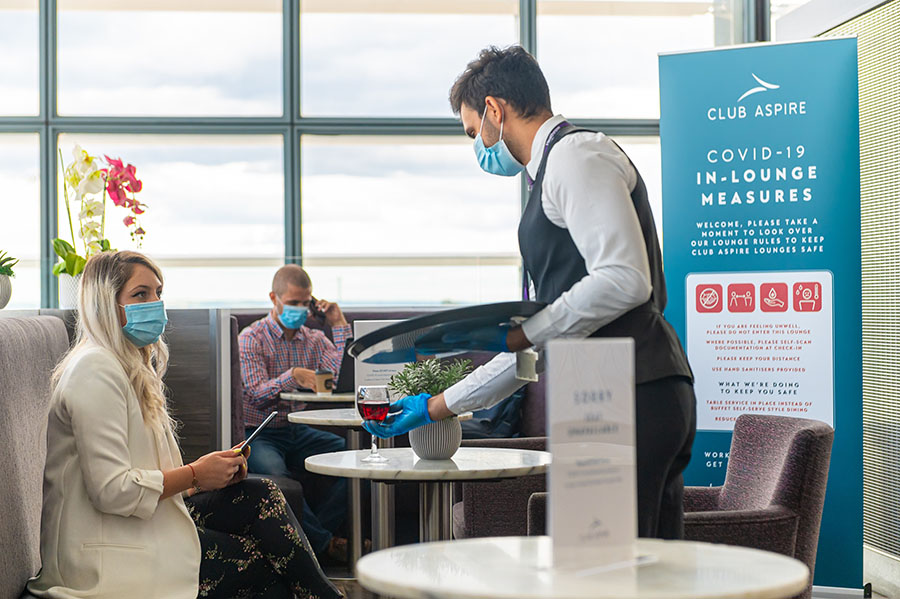 There will be fewer people in the lounge once you're inside, and you may have to follow one-way systems, and social distancing rules. Sanitiser stations will be throughout the lounge for you to use to further reduce the risks.

One of the big draws of visiting an airport lounge, is the chance to eat and drink before you get on the plane. So how can you dine in a lounge, but do it while avoiding the risks as much as possible? Passing on the buffet is always an option, but grabbing a sandwich to go on your way to the gate just isn't the choice you want to take. Fortunately, many lounges have now replaced their buffets with options which are lower risk and we are piloting Ready 2 Order, a contactless process for ordering food and drinks directly to your table, or for you to pick up from designated collection points within a lounge. You'll be able to simply use your phone to scan a QR code on tables to take you directly to the lounge's menu so you can view, select and order the options available, which will be brought to you by a lounge attendant. No more queueing at the buffet or counter with everyone else.

Slow airport Wi-Fi, and a laptop with a low battery. Sounds like a recipe for disaster. With the pandemic requiring so many of us to work from home, we are now well aware of what we need to make flexible working, actually work for us. Airport lounges have hi-speed Wi-Fi and power sockets to enable you to keep sending emails and get work done, right up until you need to board. You'll be able to send that last-minute email and actually unwind on the flight.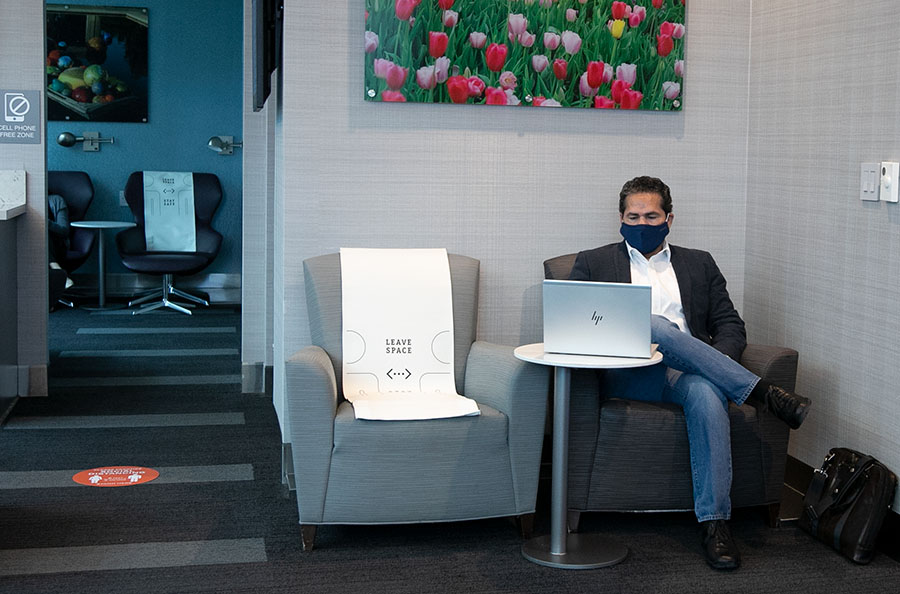 Attendants in the lounges have been such a key part in rolling out all of the changes to keep you and your guests safe when you're there, and are truly passionate about your experience at the lounge as you begin your journey. So, we've started highlighting them for what they truly are, Lounge Legends.

So, lounges might look a little different to the last time you visited, and the process and how you use them might be a little different too. These necessary steps have been put in place to assist in travel recovery, and ensure the lounges continue to be a sanctuary for our Members looking to escape the airport terminal. Make sure you're ready by downloading the Priority Pass app, available in the Android and Apple store, and use your online account details to log in to access your Digital Membership Card. You can also use the app to find lounges and experiences and see photos that have been submitted by other Priority Pass Members. We can't wait to see you during your next visit to a Priority Pass lounge.