That's why we ask for your help – did you know that every time you visit a lounge, you're able to rate your visit? These ratings help to let us know what you think of the lounges, and then we're able to see who's doing a good job when it comes to our annual awards. You can find out how to submit your rating, and in turn, contribute to the yearly awards, here.
Every year, we select winners across set regions. These regions are:
LATAM – Latin America and The Caribbean
APAC – Asia-Pacific
MEIA – Middle East, India and Africa
Europe
North America
This is the fourteenth year of the awards, which are rated on an overall score of the service, facilities and overall lounge experience. These annual awards are based on ratings of 52,000 Priority Pass Members and celebrate those lounges offering the best service, experience, refreshments and business facilities to our Members, and here are this year's winners:
Global Winner – Latin America and The Caribbean
Sala VIP Internacional, Quito Intl, Ecuador (UIO)
Operating in the Quito International Airport since 2013, Sala VIP Internacional Lounge's main focus is providing superior customer service to its guests. The reputation and increased guest footfall meant this lounge had to expand their VIP lounge in November 2017. The expansion of this lounge was the perfect time for a new look, designed by Adriana Hoyos Design Studio (AHDS) who have also worked with clients such as Hilton, Sheraton and Swissotel to name but a few.
Using locally sourced materials and furniture, it was AHDS intention to create a sense of place within the lounge, and capture the colorful and warm environment that Quito is.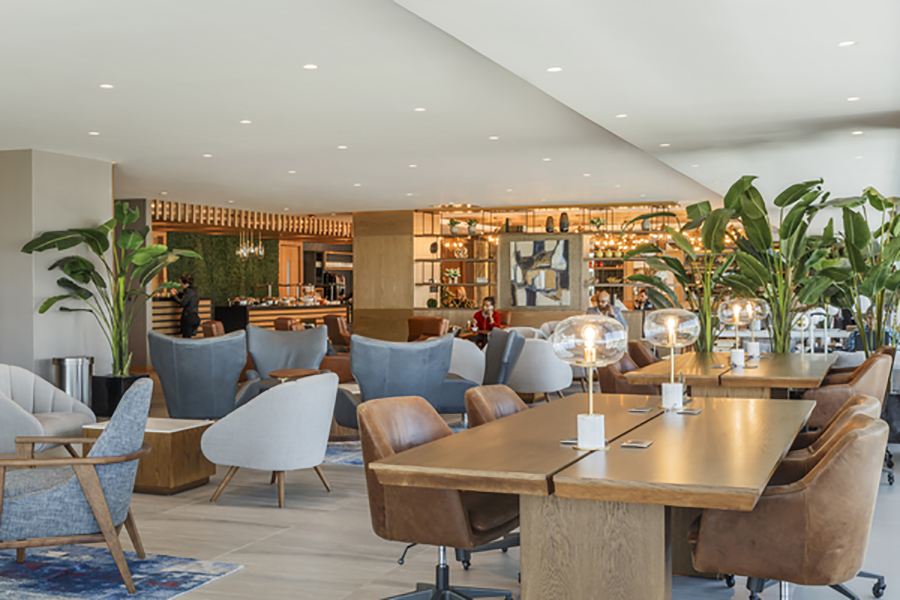 The food and refreshments are not to be missed with head chef Andrés Miño steering the ship. A local chef with over 25 years' experience, Andrés has been in charge of the VIP lounge's kitchen for over a decade, providing an exciting menu full of Ecuadorian and international cuisine. Don't forget to finish your delicious meal with one of the lounges exquisite cocktails available for your enjoyment.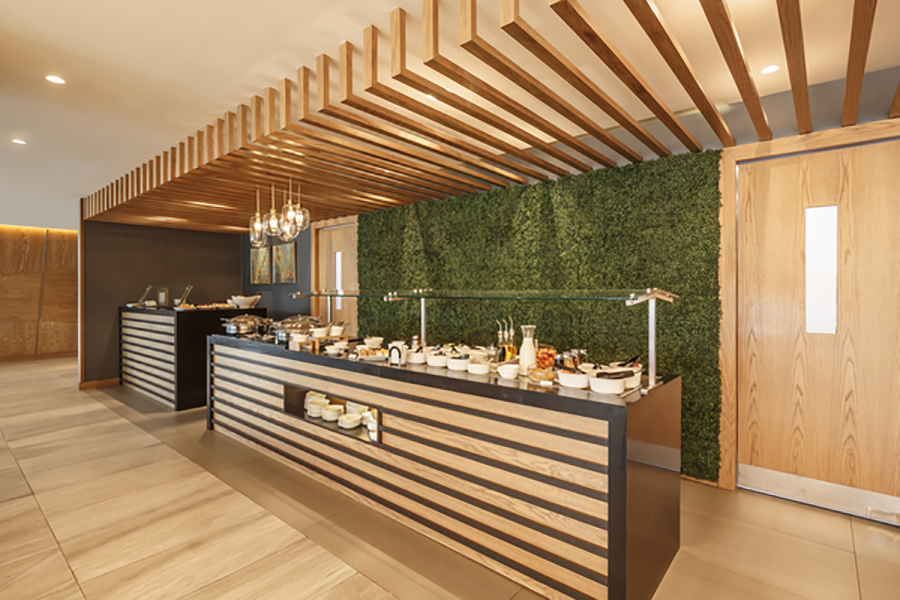 As well as sleeping areas to rest up, bathrooms with showers to freshen up, and private spaces and gathering areas to suit your needs, the lounge bar boasts a great gastronomic offer, which includes an outside terrace, beautifully adorned with jasmine and other flowers, as well as a jacaranda tree which is a key characteristic of the region. With a wine cellar, kid's zone, and a massage area the lounges offers something for everyone, and let's not forget the incredible panoramic view that the lounge provides of the city of Quito!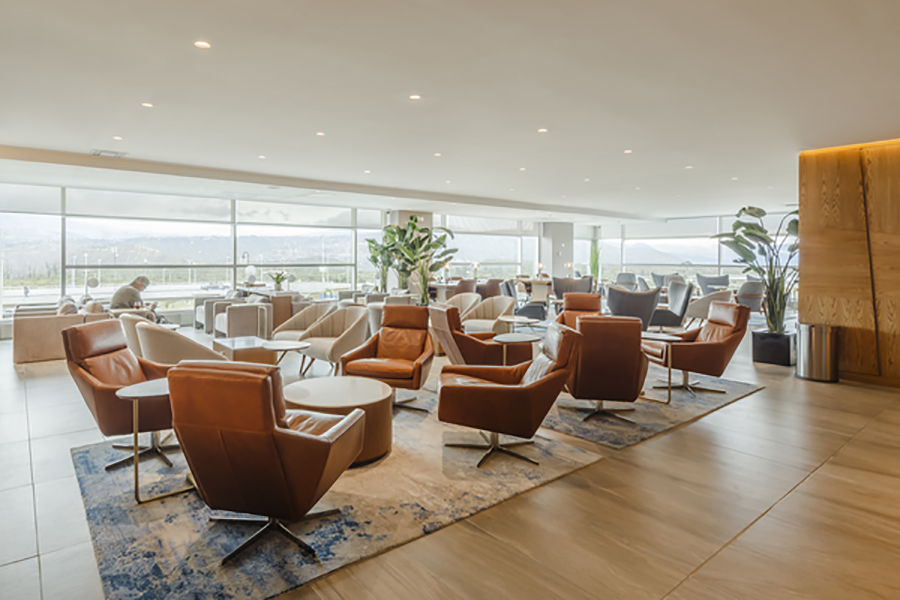 Regional Winner – Asia-Pacific
Miracle First Class Lounge (International Concourse D), Bangkok Suvarnabhumi Intl, Thailand (BKK)
The Miracle First Class Lounge (International Concourse D) in Bangkok Suvarnabhumi Intl Airport has been operating since February 2017, and was carefully designed by one of Thailand's leading interior design companies, IMADE, who are behind other projects such as The One Residence in Bangkok, Place of Eight and Crunching Tiger Football Club. IMADE modelled the lounge around modern, contemporary concepts, which a hint of Thai pattern and drawings.
Within the lounge, food is prepared and served fresh for 24 hours, meaning travelers can experience the creative dishes put together by head chef Miss Pongphan Thipphomueang at any time of day. Hot meals are served for lunch and dinner, with promotional menu's created for special holidays. All the food is created with local produce and ingredients selected by the head chef, which are suitable for all ages and nationalities.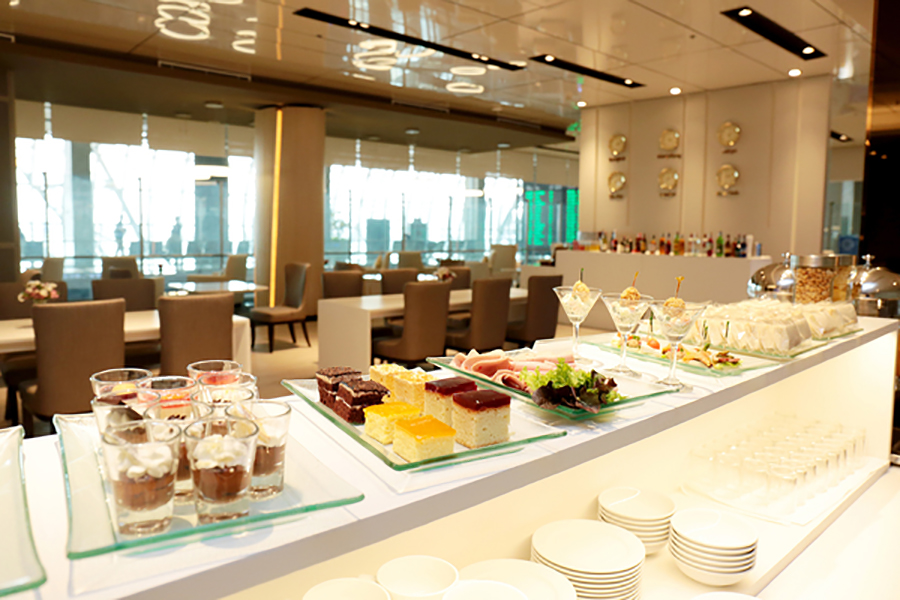 The kitchen at Miracle First Class Lounge (International Concourse D) is an open station, meaning visitors are treated to a live showcase of the chef's skills while they prepare the food. Within the seating area, IMADE's idea of a contemporary design is brought to life with elegant seating and maximising the space to make the guests more relaxed and comfortable. When you need to freshen up, the shower rooms are all equipped with fresh towels, luxury toiletries and hairdryers.
And they're still looking to go above and beyond in the future. With careful surveys to anticipate the travelers needs during their airport experience, areas have been outlined to keep on top of trends, and to continue being best-in-class. Technology is huge, but so is face-to-face interaction, so watch this space, we might have a lot more to update you on next year!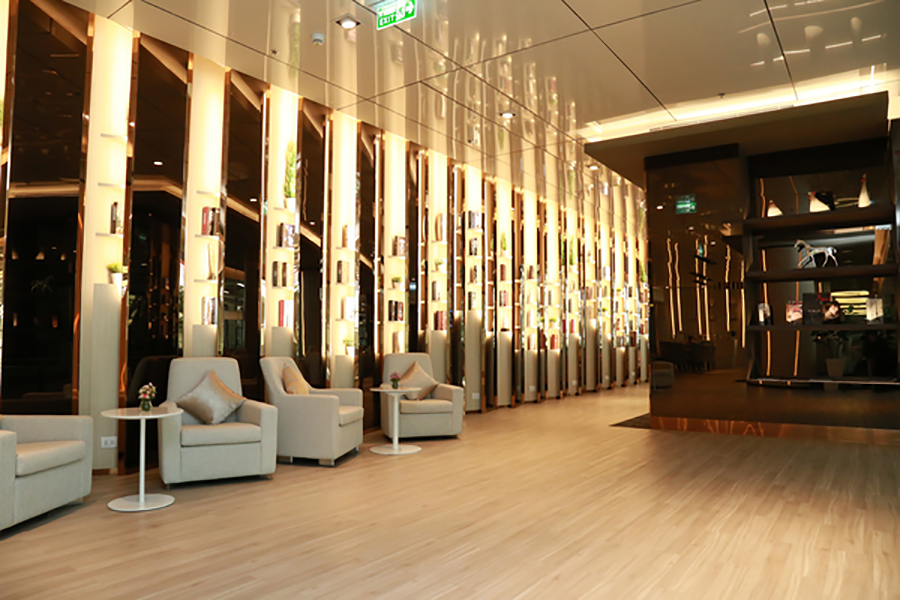 Regional Winner - Middle East, India and Africa
Ahlan Lounge at B (Terminal 3, Concourse B), Dubai Intl, Dubai (DXB)
Ahlan Lounge at B opened in Dubai terminal 3 in 2013, with subtle Arabic displays which was designed by VisionTech Company, who have also worked on projects such as Nusr-et, and Fume at Pier 7, and also BW Interiors who have worked on the Shangri-La Hotel in Dubai, and the Cadiz Tapas Bar, where the entrance to the lounge is situated.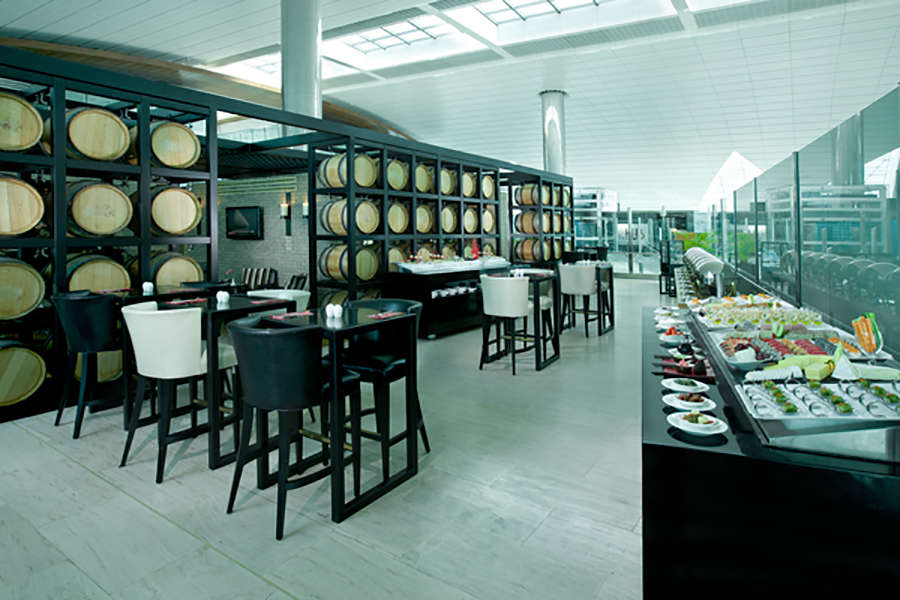 Chef's Satish Raju and Rey Obordo Caboverde work on inspiring menu's which include a dash of Arabic food, alongside international plates, providing something exciting for every visitor in the form of a buffet – the perfect time introduce your taste buds to something new that you might now have necessarily tried otherwise.
If you like to unwind pre-flight with a massage, massage chairs are available in the lounge, so make use of the free shower facilities, then sink yourself into a massage chair for the perfect way to relax. Enjoy the personal table service which is provided, so you can get stuck into that book, or fire off some emails using the free Wi-Fi provided, without needing to interrupt your activity for a top-up.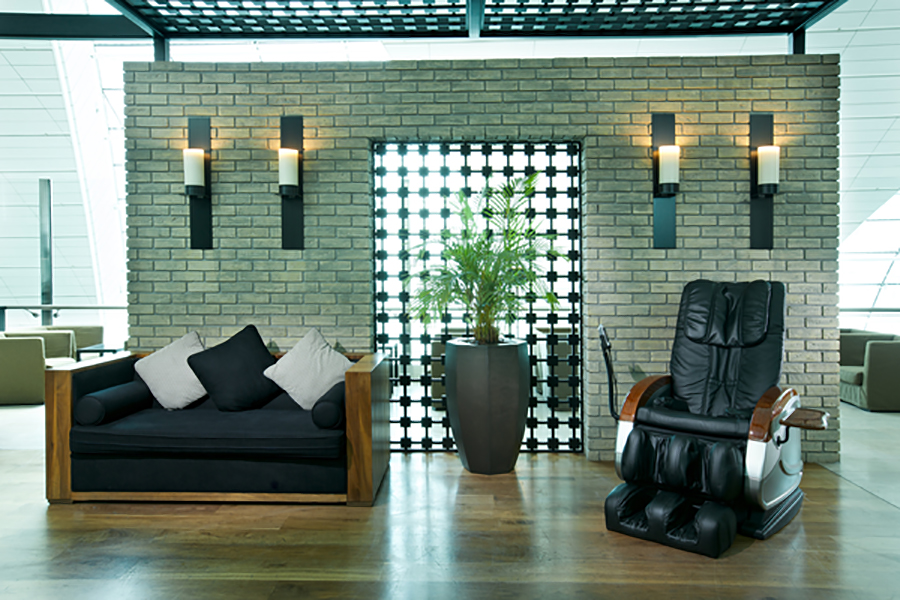 The internal feedback system, USAY is used to keep the lounge on top of their game, as well as looking at reviews from TripAdvisor to be able to make corrective action, and acknowledge the customer's views.
Regional Winner – Europe
Primeclass Riga Business Lounge, Riga Intl, Latvia (RIX)
Primeclass Riga Business Lounge has been in its new, larger location within Riga Intl Airport since May 2016, and it's been a happy home for them. These new facilities came about due to the expansion plan of the airport, and this meant that the area was part of the larger project by ARHIS, an architectural business.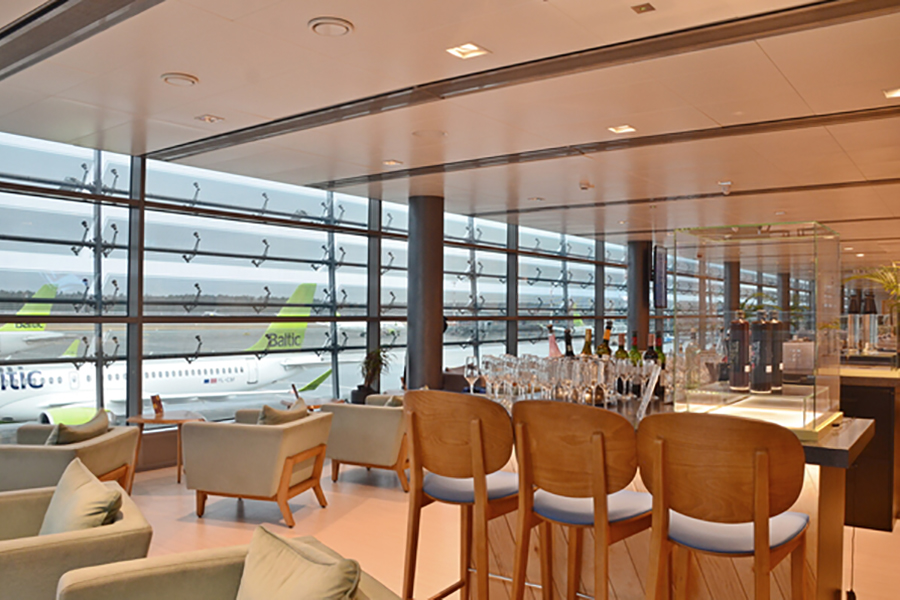 The interior decoration of the lounge was completed by TAV Operation Services, with the furniture being specifically located by Sandalyeci, who combine tech and craftsmanship to create durable, customized furniture items. This is paired with beautiful artwork which has been produced by Latvian artists, and exhibition artwork from specific artists regularly.
The food is prepared by LSG Sky Chef's group, who have great experience in catering for airport lounges, alongside their train and airplane offerings. This means that Primeclass Riga Business Lounge benefits from their history, and are able to focus on delivering the food to the highest quality, and provide a large variety of food to suit all visitors. The bar serves a large variety of drinks, alcoholic and non-alcoholic, and gives the visitors the chance to create their own cocktail from the ingredients available.
Working with LSG Sky Chef's group, food is sourced locally (such a Latvian cheese and local meats), with the excitement of creating special menu's for holidays. Latvian Balsam is the largest alcoholic beverage producer in the Baltic states, and have their HQ's in Riga. Their most popular (and flagship) product, Riga Black Balsam is a traditional Latvian herbal liqueur, and is available to try at the bar. So get your food and drink, and enjoy the panoramic views of the runway, a great addition to the lounge due to its location in the heart of the airport.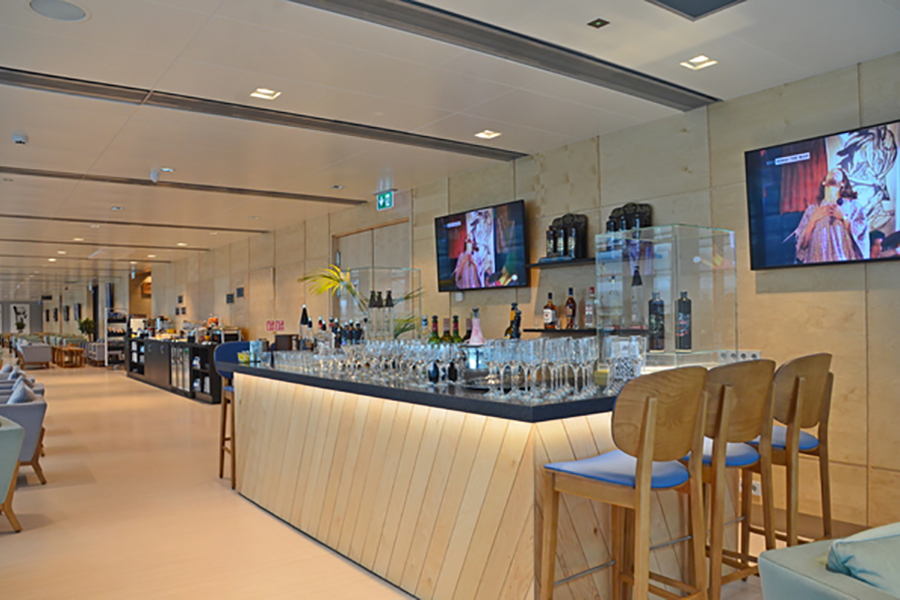 Regional Winner – North America
Lounge19, Mexico City Intl, Mexico (MEX)
Lounge19 has been open in Mexico City Intl Airport since 2011, so if you've traveled through there in recent years, you will have most likely have seen it. The most recent facelift has been carried out by prestigious firm MATERIA who are well known in Latin America through their work with luxury brands such as Louis Vuitton and Burberry.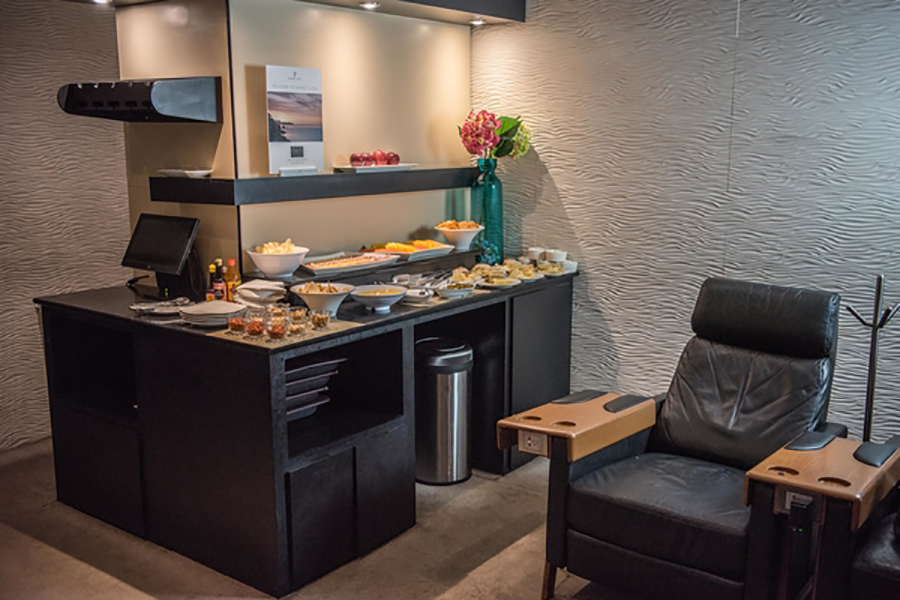 You can experience the fine dishes created by Executive Chef Antonio Barreiro, he's skilled in creating a range of international dishes, as well as popular Mexican food – his speciality being Cochinita Pibil, a slow-roasted pork dish, and Paella. The lounge also has a fantastic sommelier, Dafne Traconis, who is one of the few female sommeliers in the world. She selects the finest wine which is served throughout the lounge, chosen by region, type and varieties – meaning the wine list at Lounge19 is the most unique you can experience at any airport lounge.
Celebrating the rich history of Mexico, Lounge19 is proud to have a permanent art gallery within the lounge, which has been devoted to the famous Mexican artist, Karla de Lara. She has exhibited her work in cities such as New York and Moscow, and has some of her paintings on display in galleries in Brussels, London, Singapore and Cape Town to name but a few places.
Lounge19 has been designed to provide "The Elite Experience," and they pride themselves on many unique offerings to wow their visitors. Some of the best coffees in the world are served within the lounge, harvested in award-winning Mexican farms for example, or if you prefer an alcoholic beverage, they often showcase regional craft beers, giving special presentations to explain how they are brewed, and their flavorings.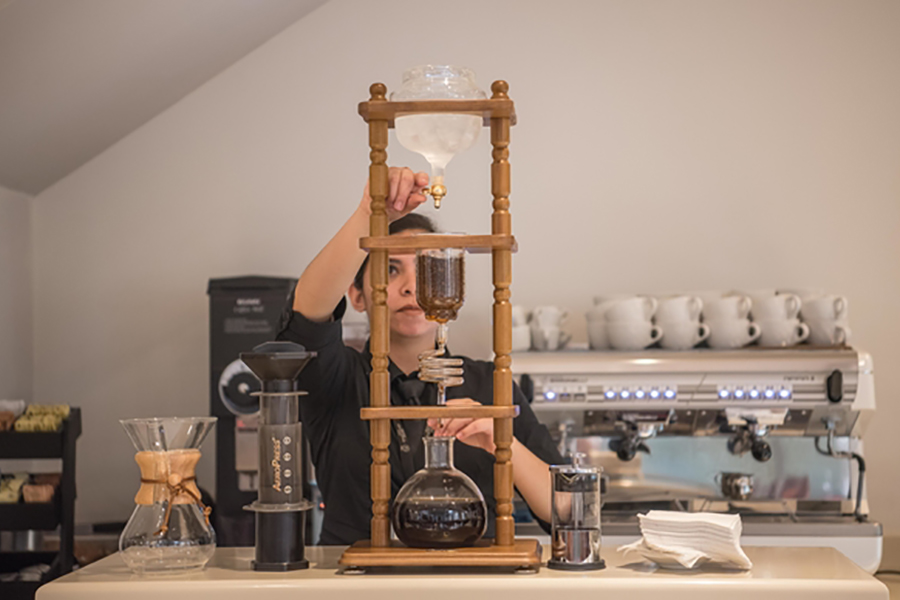 One of the standout additions that Lounge19 have to offer is their personalized guest offerings via the digital concierge. This enables you to tailor your visit, even down to the finer details – prepare yourself for a wow experience!