The majority of us have looked for the "best hotel apps to save money" or the "best hotel discount app". But which app offers the best hotel deals and discounts? Which app finds the cheapest hotels on offer? Which app is the greatest for traveling for business and which is the best for traveling for fun? Look no further because we have researched and compiled the best apps for cheap hotels, so you don't have to.

Using one of the best apps for hotel deals can be better than booking directly through a hotel chain because you might benefit from special in-app discounts. Some apps will negotiate lower rates or give you access to exclusive discounts and perks, such as keyless entry or in-app room requests, as well as fast checkout and more. Whilst we focus solely on the best apps to find hotel deals many of the companies we mention offer more than just accommodation, some offer flights, car rentals, airport transfers, attraction recommendations and other package deals.

Whether we are travelling for business or leisure, we always love a deal and saving money where possible. If you, like us, enjoy cutting costs and having a hassle-free trip this blog will help you discover the best apps to find, compare and book cheap hotels and hotel deals. But before you start browsing our recommended apps, take a look at our blog with our favourite cheap European destinations to visit.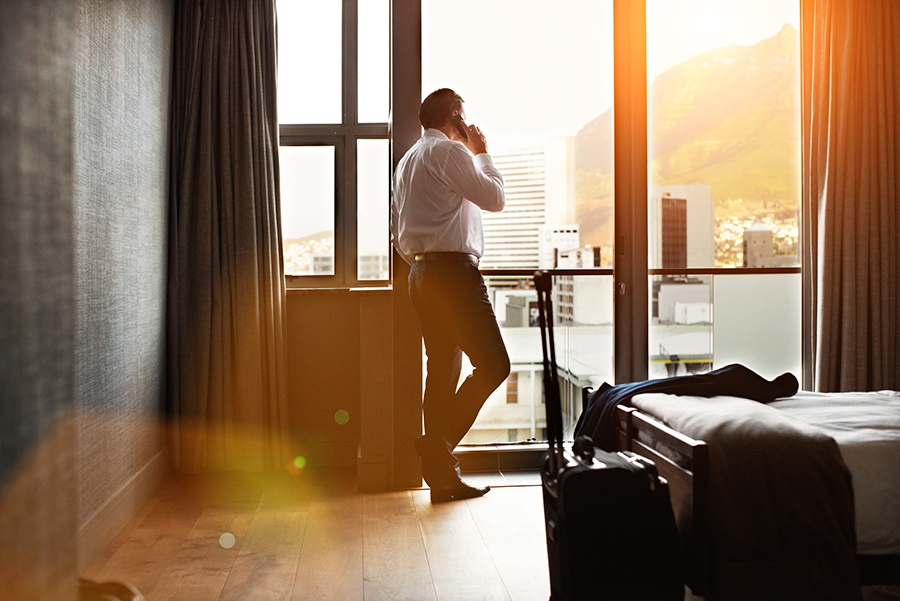 One of the best apps to download whether you're a frequent flier or an intermittent traveller is the Priority Pass app. If you haven't already got this downloaded – what's stopping you? Whilst this isn't a hotel related app, this app will ensure the journey to your hotel is seamless ad enjoyable. Priority Pass is the No.1 airport lounge access programme, and with the free Priority Pass app members can take advantage of a host of additional digital features, exclusive member benefits, contactless lounge access and more. Discover more about the Priority Pass app features and download the app.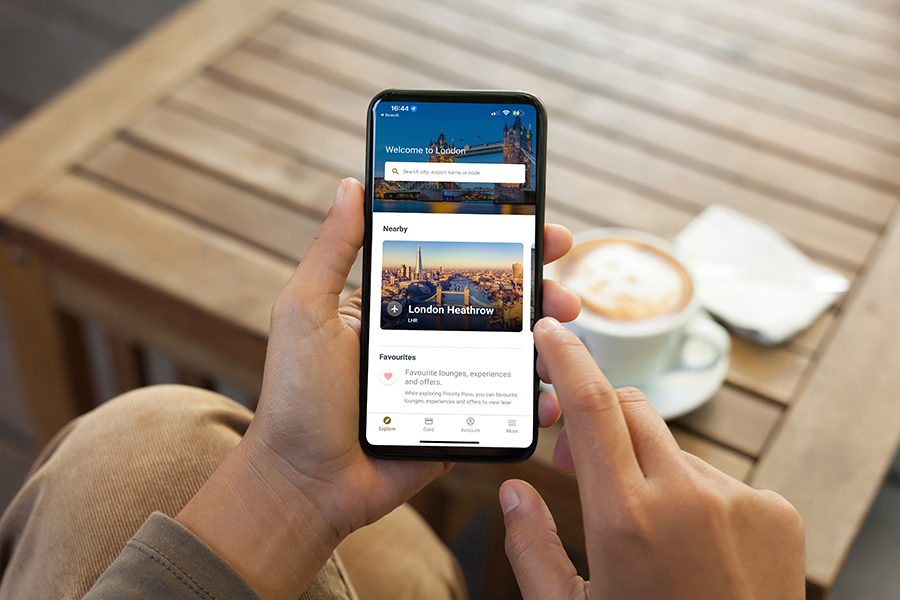 Overview:
Although Booking.com prioritises boutique hotels and smaller companies they do have some larger brands. Generally, the different types of accommodation available here are B&Bs, vacation homes, campsites, hotels, condos, campsites, and villas, at competitive prices.

Booking.com is great for saving time when you plan your trip – It is quick and simple to use, and helps you organise all the extra-curriculars necessary when planning a holiday – for example booking cars, finding attractions in the area, checking rail and bus schedules in addition to being able to book your accommodation.

You can subscribe to hear about their daily deals and exclusive offers or you can subscribe to their loyalty programme 'Genius'. Simply sign up (free of charge) to instantly access discounts and unlock different Genius levels and enjoy further rewards. Each time you book a hotel with them, this contributes to your programme progression. You will be rewarded with discounts and travel benefits and perks such as complimentary drinks, free airport transfers, late check outs as well as discounts on properties – and what's more, once you unlock these rewards they do not expire.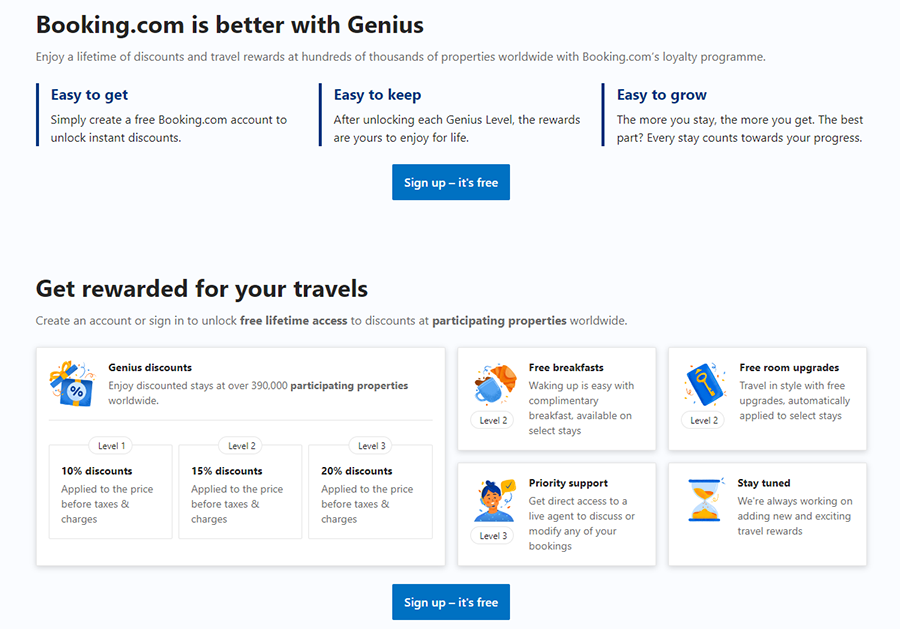 With more than 28 million worldwide properties to choose from there's no surprise that they have over 130 million guest reviews. There are suggestions that some of their reviews might be slightly biased, so we encourage cross reference accommodation reviews with other sites such as TripAdvisor. We also recommend you read the cancellation and refund terms and conditions ahead of booking to ensure you aren't charged any unexpected fees.


Pros:
・ You don't need to pay in advance
・ Has a highly rated mobile app
・ 24/7 customer service in 40 languages
・ Rewards programme


Cons:
・ Refunds can be delayed
・ Reliability of customer reviews is not strong
・ Hidden fees

To download the Booking.com app, click here.



Overview:
Airbnb is the top online platform for unique accommodation options full of character. From single rooms to entire chateaus, you can discover the perfect rental for your trip needs using Airbnb Categories. Both the website and the app have a great user interface and experience, meaning researching, viewing and booking accommodation is very simple and straightforward.

The accommodations themselves tend to have a taste of the local flavour and can be reflective of the destination you are visiting, which is refreshing when you consider most hotels tend to look the same despite where they are located. In addition, because your bookings tend to be organised by private hosts as opposed to hotel chains you can often have more flexibility when checking in or departing and you'll get great insider knowledge and recommendations.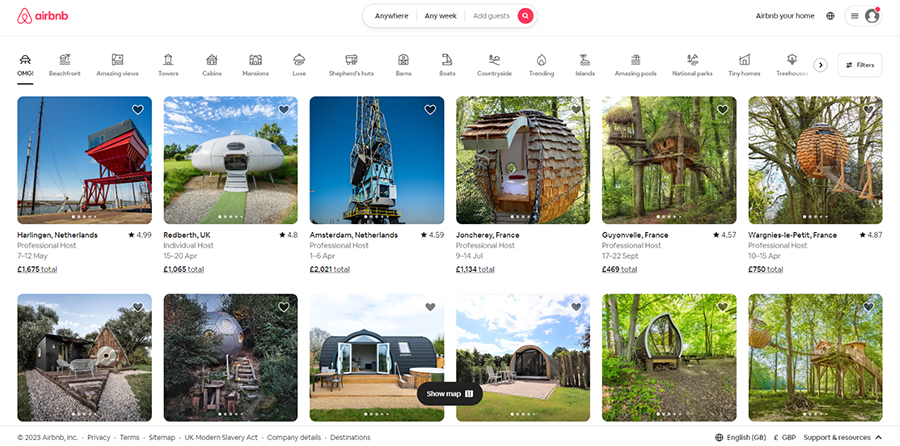 Airbnb is great for those who are flexible, laid back and are looking for something different. Airbnb can be a lot more affordable than other accommodation options. The price per night for can be a lot cheaper than hotels especially if you are a large group or if you are staying with the host, meaning you get better value for money. Additionally, as most rentals will have kitchen facilities (unlike in hotels) you can save money on food by cooking meals.

On the downside privacy can be more limited than expected, especially if you are staying with a host as opposed to renting the whole property. Moreover, most accommodations will charge a cleaning fee but don't offer the same services that chain hotels offer such as daily room service or cleaning. Similarly, to Booking.com you should make note of the cancellation policies with Airbnb. Although policies will differ depending on hosts if you are issued a refund, you should consider that Airbnb do deduct a service fee of 14%.


Pros:
・ Very affordable options
・ You can get a more local experience and great recommendations
・ More self-catering facilities
・ Great for large groups
・ Extensive variation of accommodation


Cons:
・ Doesn't tend to have sales or deals
・ Service is inconsistent depending on the hosts
・ Cleaning fee
・ Strict cancellation policy
・ More effort is required to check in than with regular hotels

To download the Airbnb app, head to Google Play or Apple App Store.



Overview:
One of the biggest websites in the world for booking hostels and cheap accommodation is Hostelworld. They offer lodgings in all major cities and towns across 170 countries around the globe. Hostelworld is the best travel app for budget-conscious backpackers looking for exciting experiences, socialising opportunities and good hostels. This site is price competitive and offers a best price guarantee against other agencies like Expedia, Priceline and Booking.com.

Hostelworld have an accurate reviewing system that ensures all reviews posted are from verified guests, meaning booking through Hostelworld is safe and reliable. Not only is their platform straightforward and easy to use but they also provide travel guides, videos, podcasts and information about your desired location.

One of the best Hostelworld features is the social connection it offers. The app encourages users to be social with its in-app instant messaging feature - Hostel Chat. This feature is perfect to swap recommendations, tips tricks and hidden gems with fellow travellers.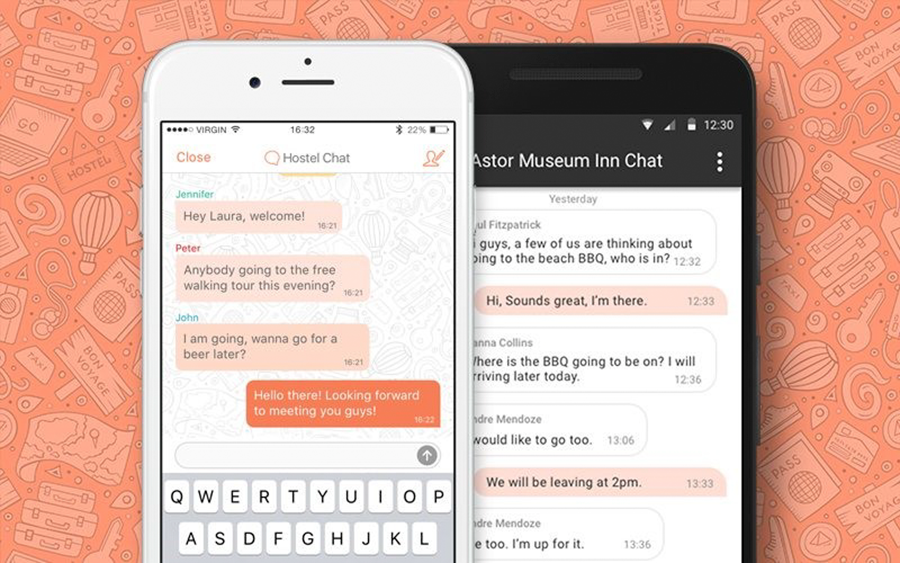 Although they have a booking fee, Hostelworld donate 5% of this to UNICEF. A slight disadvantage is that whilst they do advertise the facilities, amenities and freebies available at the hostel sometimes this can be outdated so might differ to what is actually available on arrival. Lastly, although your deposit is non-refundable if you do need to cancel, you can protect your deposit for a small fee, meaning you can then re-use it against another booking within a specific period of time.


Pros:
・ Flexible booking
・ Best price guarantee
・ Reliable and trustworthy
・ Built in translator
・ Great online community for travellers


Cons:
・ Deposit is non-refundable
・ Booking fees apply
・ Only shows hostels available on selected dates

To download the Hostelworld app, click here.



Overview:
Hotels.com is rapidly becoming one of the most popular online hotel booking sites. As with all the other major brands this platform has filters to arrange rooms according to features like free Wi-Fi, a pool, free breakfast, and pet-friendly rooms or alternatively you can further specify your search based on popularity, price or proximity.

You can plan, reserve, and organise last-minute hotel stays on Hotels.com, but this platform is perhaps best known for their big money saving deals and generous rewards programme. Their 'Secret Prices' promotion offers 10% off in-demand properties for Hotels.com members and their 'Tonights Local Deals' is perfect for last minute reservations. They claim to have over 20,000 last minute deals available via their website and app.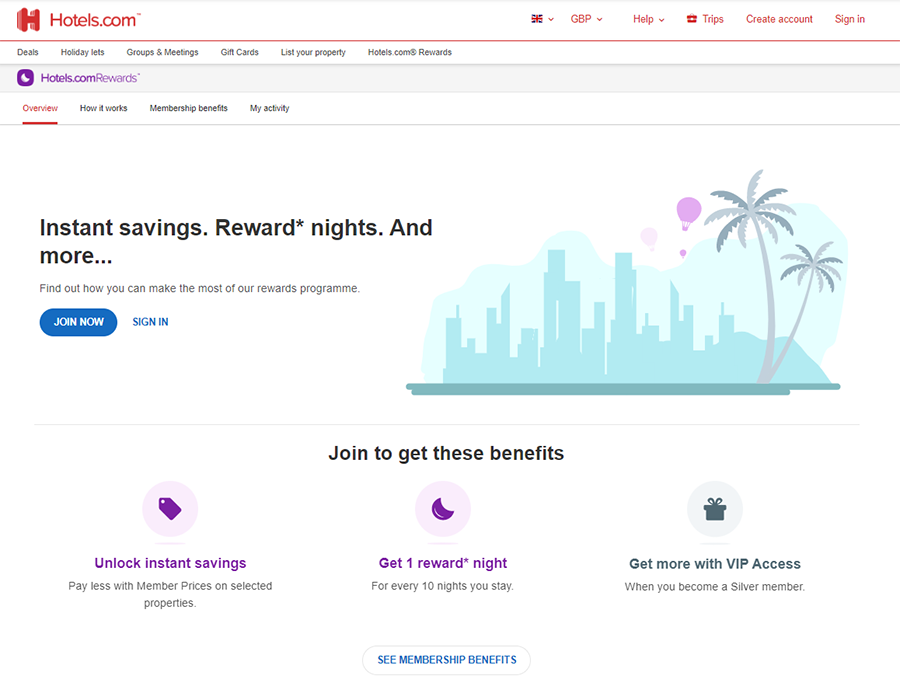 If you use the app, their "specially negotiated" prices can save you up to 40%. The app is highly functional - you can make, modify and cancel bookings within the app as well as check out your booking history and view your rewards status. In addition to these exclusive deals, when you sign up in the app as a Hotels.com rewards member and book ten visits, you are awarded with a complimentary night's stay.


Pros:
・ Reward programme
・ Exclusive deals and savings
・ Over 1,000,000 properties worldwide
・ 3 step booking process
・ They offer gift cards


Cons:
・ Customer service isn't the best
・ Not many user reviews

To download the Hotels.com app, click here.



Overview:
HotelTonight is one of the best platforms for booking last minute deals. You can book up to 100 days in advance or on the same day and in some cases the app will let you book until 2am for the same day, for those super last-minute, impulsive reservations. If you are being spontaneous, take advantage of the last-minute deals, this is usually where you can make the most savings as hotels are trying to fill unsold rooms. Explore the Geo Rates feature to find the special discounts specific to your location.

HotelTonight also offer rewards with their HT Perks tiered loyalty programme. To top it off your rewards don't have an expiry date – therefore the more you book the more rewards you will be able to collect, unlocking cheaper rates, discount deals and credits for upcoming trips.

Their Daily Drop feature lets you swipe to find customised deals with prices specific to you and valid for only a short 15-minute period. Choosing a property is easy with the photos, reviews and additional information provided for each location.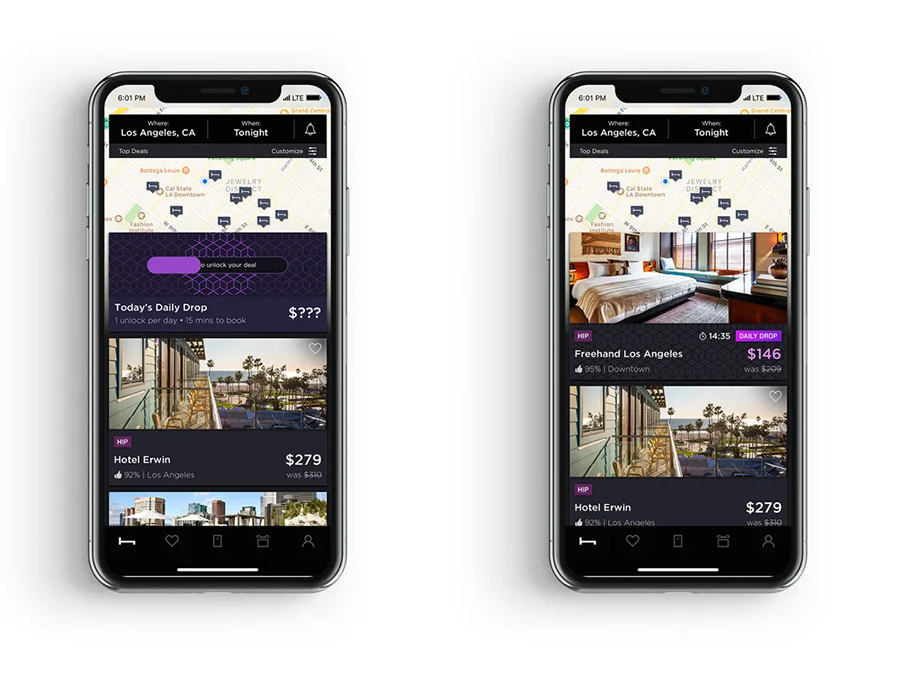 Pros:
・ Wide variety of accommodation options
・ HT Perks Programme
・ Geo Rates Feature
・ 24/7 Customer service
・ Daily Drop Feature


Cons:
・ Cannot guarantee room type
・ Non-refundable bookings
・ Customer support is average

To download the HotelTonight app, click here.



Overview:
Expedia is one of the more well-known online travel agencies. They offer a rewards programme (at 2 points per dollar) with bonus points, no blackout dates for redeeming points and exclusive offers. As with other price comparison sites, Expedia offers an extended low-price guarantee where you can submit a claim up to 24 hours prior to your stay if you find a better deal.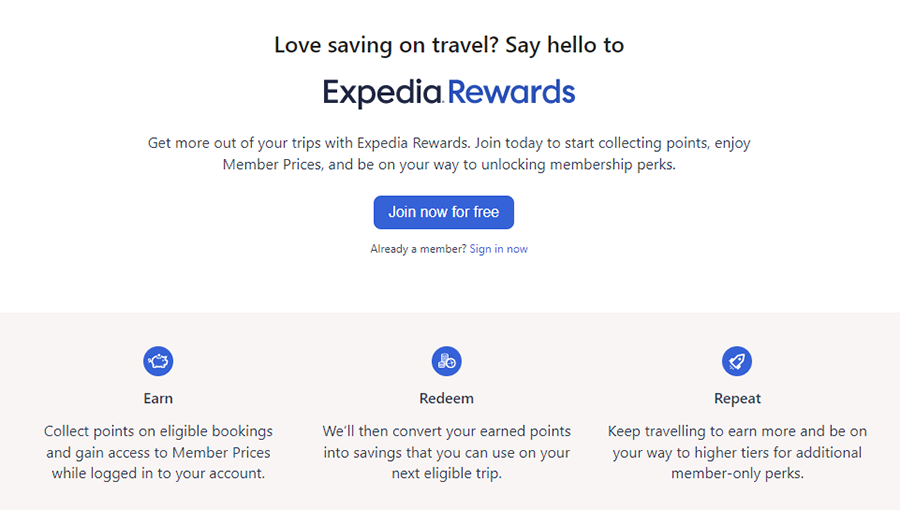 As they are a virtual booking agency all reservations can be made directly through their app or website. You can hyper-personalise your search by destination, hotel star rating, price range, hotel chain, and more. One of the most practical filters for spontaneous travellers is the ability to filter and search for fully-refundable options – this is great for those unpredictable travel scenarios.

Another great feature Expedia offers is their split rate bookings. This is when two separate reservations are made at the same hotel and can often be cheaper. We recommend downloading their app to double your reward points and save up to 40% with their app-exclusive hotel deals.


Pros:
・ Rewards scheme
・ Frequent sales and last-minute discounts
・ Split rate hotel bookings
・ Low price guarantee
・ 40% savings on app-exclusive deals


Cons:
・ Booking direct can be cheaper than via Expedia
・ Some hotels offer more amenities when you book directly
・ Their cancellation policies can be confusing

To download the Expedia app, click here.



Overview:
Trip.com claims to be one of the leading agencies in the industry and they are fantastic because of their very competitive pricing. As with other companies, Trip.com heavily promote signing up to become a member as this further increases your likelihood of getting bigger and better deals.

Trip.com is proud of its customer service, and the online reviews reflect this sentiment proving there are many happy customers. One great aspect of the Trip.com staff is that they are multilingual to accommodate a diverse range of customers. This is ideal considering Trip.com has global coverage and have many customers speaking different languages.

Trip.com brags about how highly it values your protection. They guarantee that your sensitive information is secure and won't be misused regardless of the payment method you choose. No matter whether you book through third-party services or your personal credit card – they are reliable and trustworthy with your data.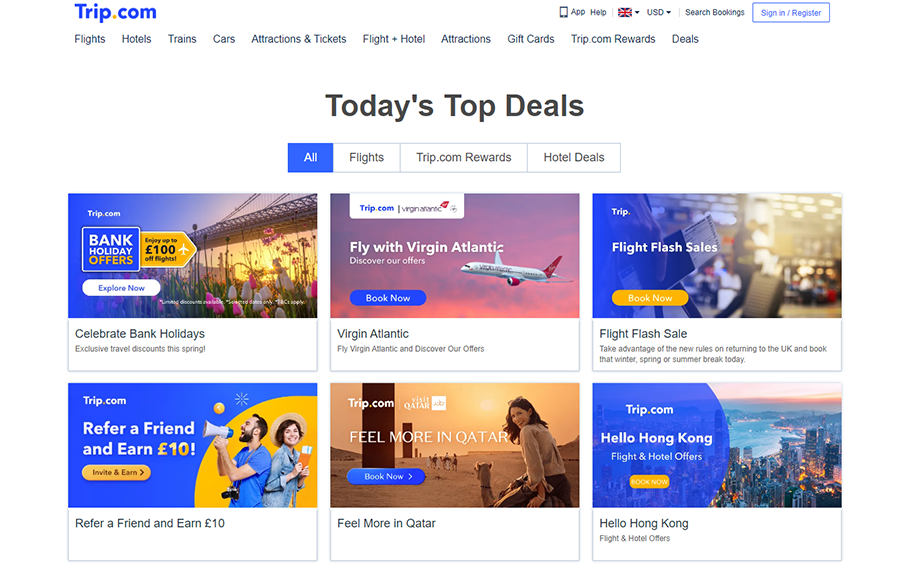 Unfortunately, a few customer reviews suggest that Trip.com can be a little slow to issue refunds – despite this, they do have a change and cancellation guarantee. This means that they do not profit from or upcharge any amendment or cancellation fees, so if in the instance you did need to change your booking you can be reassured that they would contact the hotel to request as much money back as possible.


Pros:
・ Secure payment
・ Big discounts
・ Multilingual
・ Excellent customer service


Cons:
・ Slow refunds
・ Miscommunication with bookings

To download the Trip.com app, click here.



Overview:
Kayak searches through over 2 million accommodation options worldwide and compiles verified guest reviews to suggest and recommend the best hotel deals for your trip. You can set price alerts and notifications to track accommodation price trends over time and stay up to date on the best hotel prices.

Their Kayak trip planner allows you to save your searches, information and reservations or create itineraries to plan out your trip. Kayak also has a map feature to search for and compare the lowest priced accommodation in specific areas.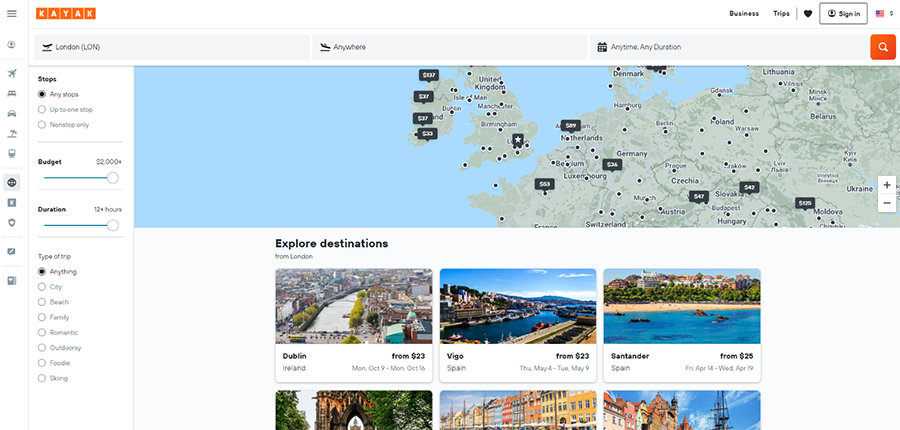 Travellers can earn points when you stay at one of the 400,000 participating hotels with the Kayak points reward programme, these can be redeemed for a range of benefits and incentives, such as electronic gift cards, exclusive travel and dining deals and more. In addition to the standard filters on comparison websites (price, amenities, location etc) you can also filter the ambience (lively, eco-friendly etc), freebies offered (free transfers, parking, breakfast) - great for finding the perfect stay for you.

Kayak has both a business and a consumer platform. The business platform works similarly to the consumer site but is targeted at corporate travellers. Companies can use this site to help their employees manage, plan and purchase business travel. They also offer the option to place spending limits for employees and can report on overall spending with their reporting feature.


Pros:
・ Trip Planner feature
・ Verified customer reviews
・ Price alerts
・ Rewards scheme
・ Extensive filter options


Cons:
・ Doesn't offer a lowest price guarantee
・ Cannot book directly on Kayak

To download the Kayak app, click here.



Overview:
Priceline is an online travel agency that provides customers with numerous options for booking the most affordable hotels with their range of discounts and low-cost hotel deals. Priceline mostly features the more well-known, bigger brand hotels, but do also have some smaller boutique hotels too.

Express Deals is one of their most popular propositions. Essentially these are limited time exclusive savings on popular hotels with as much as up to 60% off hotel bookings. You should note that when booking with Express Deals you can only find out the hotel name and location once you've booked – so it can be a bit of a Russian roulette. But don't fret too much, it's not a total gamble; they'll show you the price, neighbourhood and amenities of the hotel before you make a reservation. This is a great way to save money and is best for travellers who enjoy a little mystery and adventure during their hotel stays.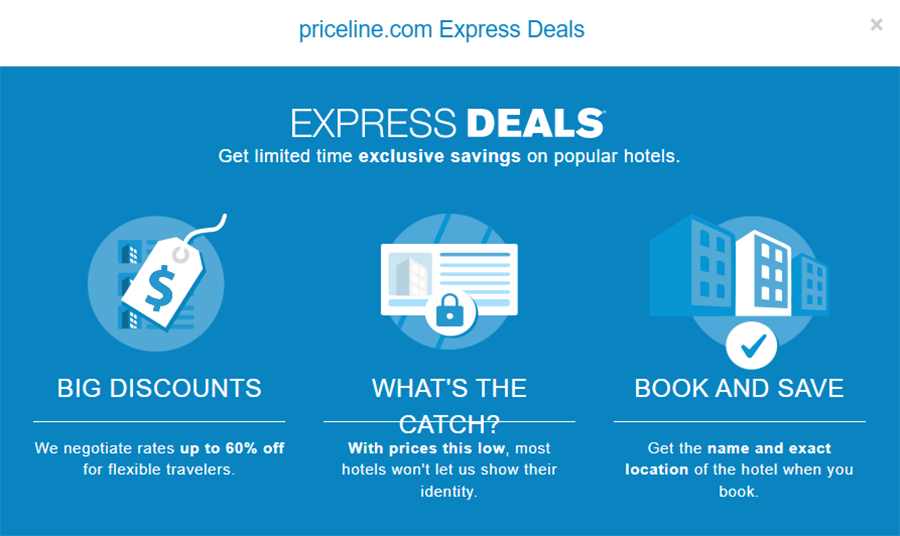 The Pricebreaker option is another great feature for flexible travellers. Three highly rated hotels of similar standards are listed under a certain price, you won't know which you are assigned until you checkout. Priceline do guarantee that it will be less than retail price and are often up to half the price of published rates on other sites.

Priceline can also help you save big on same day hotels with their Tonight Only Deals. This feature is only available in the app and offers you last minute heavily discounted deals for big savings. We should also mention Priceline's loyalty programme, Priceline VIP is free to join and offers access to discounts and benefits as soon as you sign up.

Although reservations are non-refundable the best price guarantee ensures that customers will get a full refund if they discover a better offer within 24 hours of making their booking. This option is perfect for flexible travellers.


Pros:
・ Best price guarantees
・Express Deals
・Tonight Only Deals
・Updates and reminders for your trip
・Pricebreakers


Cons:
・Maximum of 2 per room
・Different offers on app and website
・Some bookings are non-refundable

To download the Priceline app, click here.



Overview:
Trivago is a metasearch hotel search engine that scans the metadata of hotel websites and other online booking networks in a flash to find you the best bargain. Trivago directs you to the hotel website or booking site to make a reservation, much like Kayak and other online travel sites.

The website is great for searching for specific accommodations as there are a range of filters that you can toggle on or off according to your preference, including accommodation rating, user rating, price per night, any deals available, it also features photos and notes of any additional amenities like free breakfast, Wi-Fi, spas and cancellations etc.

Trivago is one of the best platforms to use if you want to compare various price ranges across hundreds of booking sites as they offer more than 5 million worldwide accommodations options. Searching through this many choices can be daunting but the map feature on the website allows you to visually compare hotel prices from hundreds of different accommodations options making it easier to find your ideal accommodation.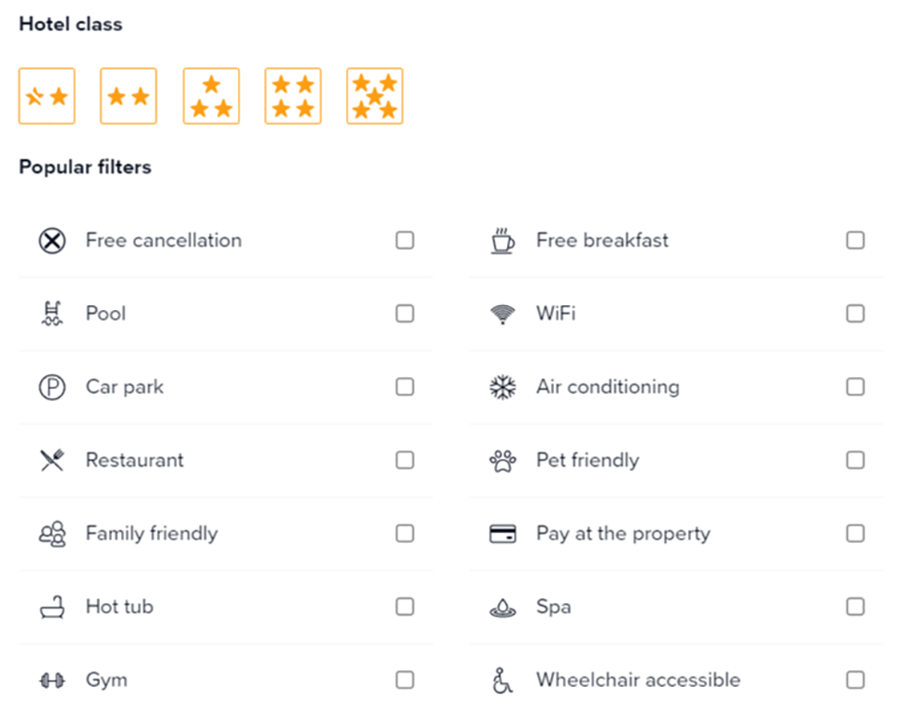 Pros:
・Simple and quick to use
・Free to use
・Compares deals from multiple site
・Uses a map of the area for an overview of prices in your chosen destination
・Exclusive details


Cons:
・No rewards programme
・Bookings aren't done through Trivago

To download the Trivago app, click here.