Sometimes, depending on where you're travelling to around the world, you're pleasantly surprised. Large, clean terminals, ample staff at security checkpoints, family changing areas, plenty of food options and most importantly, entertainment for the little ones and peace of mind for the parents.
On that note, we've researched some of the best airports in regions around the world that cater well for families. Of course, there are many more that could have made the list, but we couldn't write about them all!
Asia and the Pacific Region – Singapore Changi Airport (SIN)
One of the most obvious choices in this region, it could be argued that Singapore Changi is far more than just an airport, given the sheer size and incredible activities. Initially opened in 1981, the ambitious owners (the Government of Singapore) have been adding unique, unthought of amenities and activities for all to enjoy – really making it a class apart.
Not top of everyone's list, but if you fancy a dip, head to the outside swimming pool in Terminal 1. From the deck, you can view planes taking off which is sure to go down well with the children -there's also a poolside bar so you don't have to leave the vicinity to go in search of refreshments. For the adults whose children are competent enough to enjoy the pool without direct supervision, a jacuzzi is also available in this airport oasis - ready to massage away any knots and pains before your flight.
If you find you're getting prunes from being in the water too long, dry off and head up to the entertainment deck in Terminal 2. Here, you can unleash your inner child and enjoy some of the latest films in the 24-hour movie theatre – perfect if you're on a long layover. There's also Xbox Kinect consoles, meaning the young ones can burn off some extra energy playing bowling, tennis, soccer and more! Finally, roll back the years by swinging by the retro arcade machines, where you can teach your kids about the games you played when you were growing up – make it competitive and see who is better at your favourite games!
If bright, vibrant colors are a hit with your family, check out the beautiful Sunflower Garden, also in Terminal 2, and enjoy scenery like no other whilst in the confinements of an airport. Embrace the unique fragrance sunflowers emit, and the warmth (hopefully!) of the local weather. If you're visiting after dark, be prepared for an amazing light show which is bound to astonish both young and old! Mother nature is rife in this airport, you can also find a koi pond, cactus garden, canopy park & overhead bridge, enchanted garden, discovery garden, hedge maze…shall we go on? We can't type forever, but you get the picture that there's plenty to do whilst you're there. They really have thought of pretty much everything!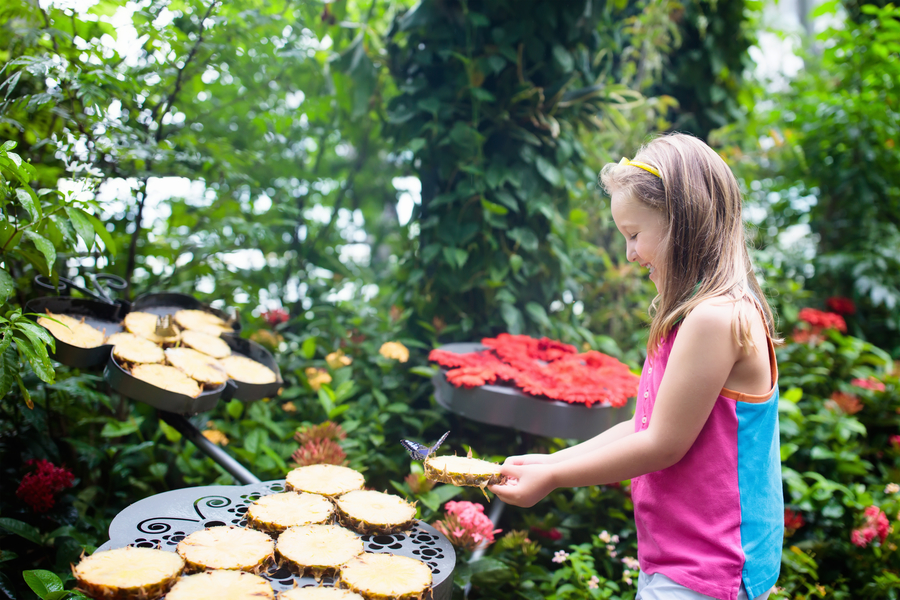 You're bound to get tired after a couple of hours exploring. Take time to relax before your flight in an airport lounge. Priority Pass Members have 12 options of lounge and non-lounge experiences within the four terminals at Singapore Changi. See what we have to offer so you can plan your airport experience by clicking here.
There's literally so much to write about, we're sure you will have seen or at least heard about the giant 5-storey climbing frame and the slide @ T3 – the world's tallest airport slide. Let's just sum it up by saying, if you're flying through or from Singapore Changi, you're a lucky family!
Europe – Munich International Airport (MUC)
Even before you reach the airport, the family friendly scene is ripe in Munich. Allow extra time pre-flight, and follow signs to "Visitors Park." When you've parked up, you're greeted by a huge airplane-themed adventure playground, complete with a static aircraft park where you're able to board disused planes for a small fee. And for a taste of what you're about to experience, climb to the top of the observation mound for amazing views of the taxi and runways at the airport.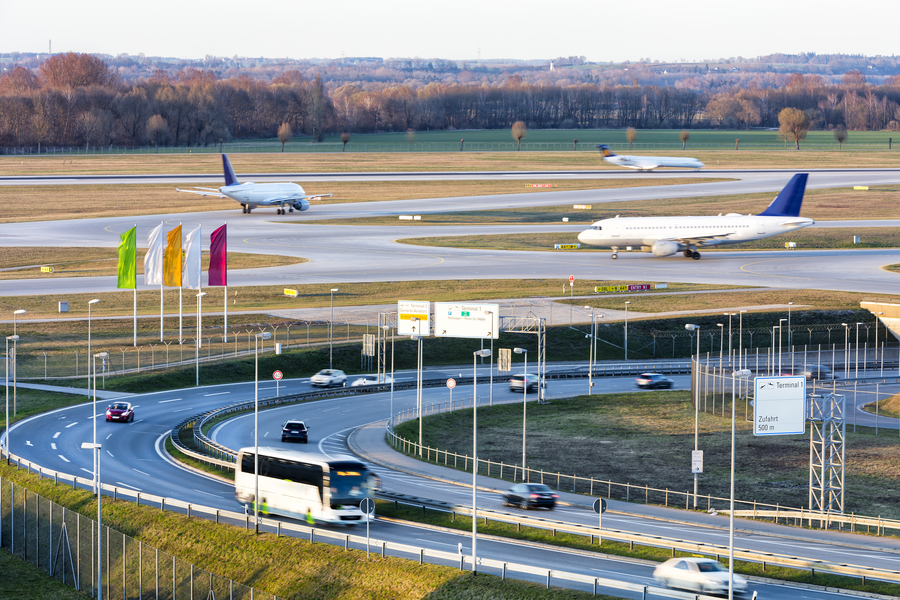 Leaving Visitors Park to head to the airport doesn't mean that's where the fun ends. Did the views of the planes spark enthusiasm? Excellent – there's an observation deck in terminal 2 where you can continue the excitement. Look out across the tarmac to see the plane movements, using the binoculars to see which airlines are on the move, you can even see over to the new satellite terminal opposite!
There's more to Munich International Airport than just watching the planes – Kinderland is a supervised play-area for both the younger, and older children. For an additional fee, you can let your kids climb, slide and enjoy activities such as drawing and reading, whilst parents can enjoy refreshments in the Parents Lounge, safe in the knowledge your kids will be enjoying themselves before you fly.
Kids Care Stations come to the rescue for many who are travelling with young children. These are essentially vending machines, but for crucial items you might need for childcare. They cater for most vital things such as baby food pouches, diapers and snacks if you're pressed for time heading back into the terminal to find what it is you need.
North, Central and South America – Dallas Fort Worth (DFW)
One of the busiest airports in the USA, Dallas Fort Worth is always bustling with activity – especially during current renovations which are due to finish in 2021. Beyond the refurbishment works (although not the quietest of times to visit,) you'll find that Dallas is still a favourable airport for families.
A good way to see all that the airport has to offer, is to take a walk along the seven-tenths of a mile LiveWell Walking Path, which takes you on a journey between the airport's art programme floor medallions, meaning you get to stay active, burn some energy, and you can enjoy the art whilst the kids are none-the-wiser! You can enjoy two step courses too, both of which are 55 feet high!
For ease when it comes to eating, certain restaurants are available via 'grab' which you can order via the Priority Pass mobile app, namely "Airport Takeout." Simply log in to your account, navigate to Dallas TX – DFW International on the app and select which terminal you're currently in to see the options available to you. This means you can skip the line and go straight to the counter when your food is ready for collection (you'll be sent a text message to confirm this). Sound interesting? You can read more about this helpful addition to your membership in our product blog, here.
Also available with your Priority Pass Membership are the Gameway outlets in Terminal B and E. You're able to use your lounge entitlement in exchange for two hours on the game's consoles, a perfect place for the bigger kids. With 25 of the latest releases pre-loaded on each console, one soft drink and two snacks (included with your entry,) we won't argue that it's a fine way to pass the time before flying.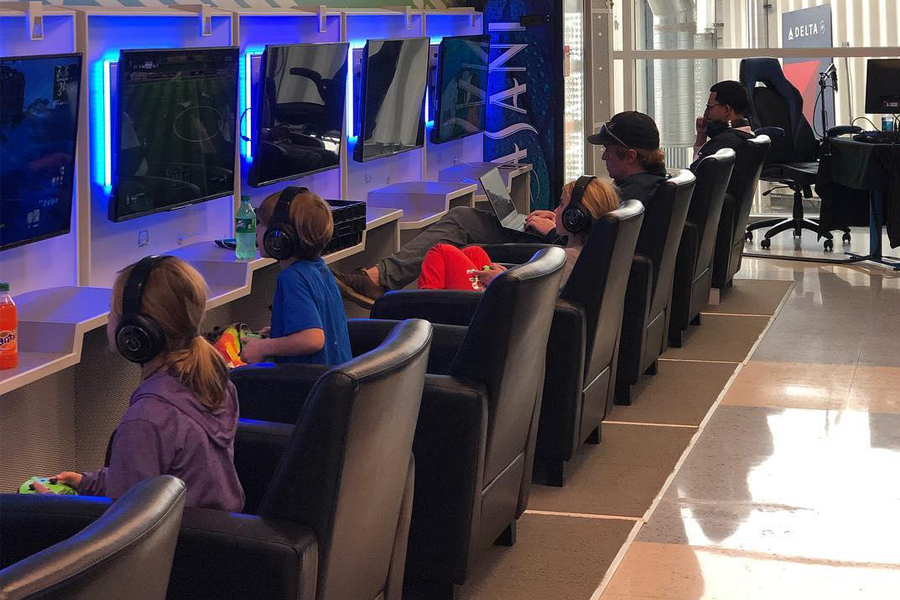 If you'd rather spend your time in the airport lounge, The Club DFW in Terminal D allows children under the age of 12 to be admitted free, meaning they can make the most of the awesome candy jars which are a staple of The Club's offering around the country. If you're in a different terminal, no fret – you can ride the SkyLink train through to Terminal D to skip going through security twice – but make sure you allow extra time to get back to the correct terminal and catch your flight.
Middle East, India and Africa Region – Dubai International (DXB)
Like Singapore Changi, choosing Dubai International for this region was an easy decision. The world's busiest airport by international passenger traffic, Dubai Intl is split in to three terminals, plus a large cargo terminal, so it needs enough activities to cater for the amount of people travelling through.
Before you get to the airport, if you're travelling with certain airlines, you're able to check your bags in from the Dubai Mall or even from your accommodation. Dubz allows you to track where your baggage is along the journey, to give you peace of mind.
First things first, there's plenty of choice to eat – even for the fussiest of little delights. With over 135 food outlets across the terminals (including arrivals and pre-departures), plus baggage storage available in terminals 1 and 3, you can store away your excess, and set your sights on sustenance. For a little bit extra fun once you're finished eating, Tranzeet in Concourse B, Terminal 3 has an old-fashioned photo booth where you can keep creating vacation memories right up until you board your plane.
Again, like at Singapore Changi, there's a pool available within the Dubai International Hotel. For a fee, you and the family can enjoy a dip in the pool, and for those with older children, a jacuzzi, steam room and sauna.
If you're travelling with younger kids, the Kids Zone at terminal 3 is the place to go. You and your little ones can enjoy interactive games, a climbing area, feed and change cubicles and more restaurants nearby. And once you're done playing, pick a spot to make the most of the high-speed Wi-Fi service, aptly named "WOW-Fi."
Dubai International (DXB) has 9 lounge and non-lounge experiences for you to make the most of your Priority Pass Membership. Scattered across all three terminals, you'll be sure to find something suitable for you and your family. Also, depending on your membership type, we have a variety of offers available within the airport space in other outlets ranging from a percentage off your food bill, to money off entry to the spa.