School and Kindergarten holidays are always just around the corner and taking a family vacation is often a pretty daunting task. A small trip to a café or the park with your child requires 15 minutes of packing and planning, so a lengthy trip, especially a long-haul flight, demands some pretty serious preparation. It often feels like half the stress of travelling with young children is simply getting there. However, once you're at your destination, it all seems to fall into place (at least, until the return flight)!
We've put together our top tips and advice to help make sure you're prepared for your vacation, so your only worry is making new memories!
Schedule flights during sleeping time
Whether your flight is a long haul or a quick trip, schedule it during your child's nap time if you can, or if you're taking a late-night flight, pick a departure time that coincides with bedtime.
Stroller or Baby carrier?
Depending on how young your travel companion is, you'll have options to take a stroller, or use a baby carrier through the terminal (You may even want both). Baby carriers can be lifesavers when travelling. Not only can you wear your child, leaving you with two free hands for strollers, carry-ons, or boarding passes through the airport — but they'll also come in useful when you're visiting beaches, museums or other places where strollers either aren't practical or aren't allowed. If popping your young one into a baby carrier during your airport run is no longer an option, make sure you've got a suitable stroller. We recommend a lightweight umbrella stroller, which you will be able to check at the gate in most cases and great to have on hand at your destination.
Be seat savvy
If your baby is fewer than 20 pounds, reserve a bulkhead seat to take advantage of a bassinet, which can attach to the wall in front of your seat — plus, obviously, to enjoy extra legroom. If the bulkhead isn't available, you could take a small gamble and try reserving an aisle and window seat in the back of the plane. This also is a perfect option if you're travelling with a child (or children) with just one adult. The back of the plane are usually the last rows to get filled, but if you happen to have another passenger in the middle seat, they'll be very keen to swap. Also check if the airline you're flying with is reserving seats for family. It's becoming increasingly common for the last few rows to be put aside specifically for families.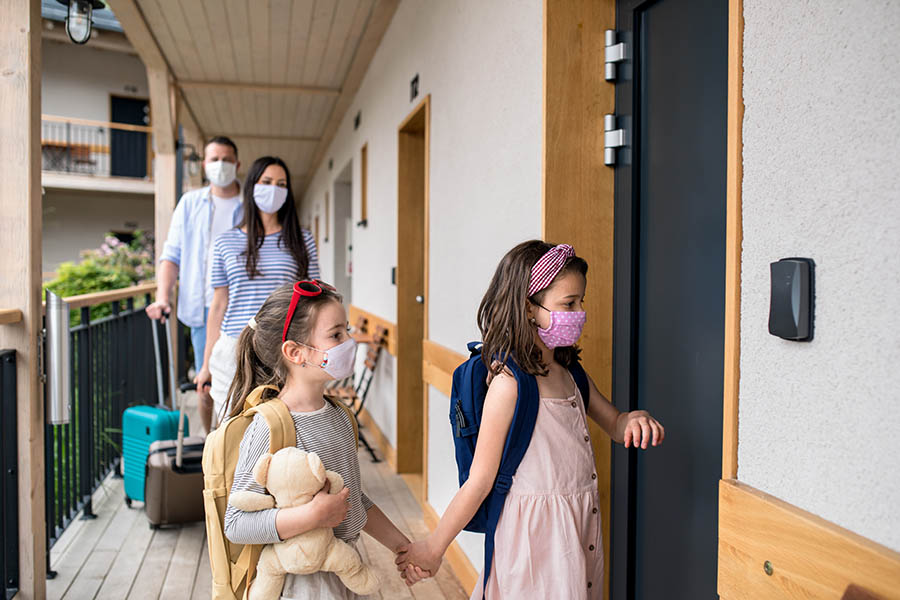 Prepare for the worst on the plane
Remember the worst flight you ever took? When your flight was delayed, and you sat for hours in the terminal or on the tarmac waiting to fly. Now imagine that with your child. Even if you're only flying a short distance, be prepared for the worst-case scenario, which means an iPad charged and pre-loaded with kid-friendly content, a change of clothes for you and the child, and enough diapers, formula, and snacks if everything goes wrong. And, if the worst happens and the airline lose your bag, you already have everything on hand to get through that first part of your holiday!
Make the most of the airport
Make sure you have the Priority Pass app downloaded and check out the lounges available for your flights in advance. Some lounges are more child-friendly than others, with some even allowing children up 12 years old free entry with an adult, with many also having separate child areas, so make sure to have a look in advance.
Consider staying on your own time zone
The clock might say 8p.m. in your new destination, but to your child's body clock, it's only 3p.m. What to do? Consider keeping them on a schedule that's close to your home time zone. If you're travelling internationally, this could mean wake-ups at noon and bedtime at midnight—confusing for those who see you out with your children in the late evening, but potentially easier for both you and the kids, especially on your return home.

Be prepared, to not be prepared
Making plans and itineraries for your holiday is part of the fun of a trip away, but when you are travelling with children, whether they're a new born, or much older, you need to be ok with last minute changes to your plans. Make sure you're mentally prepared to cancel your plans and pivot into something different, even just knowing your plans might need to change makes it easier if they do. Also, if you're children are old enough, involve them in part of the planning, that way, they will be excited about what they have helped organise!
Family trips are often some of our most cherished memories, as both adults and children, so, if you're ready for that next family vacation, make sure you also check out how you can start planning it right now, and have a look at our list of apps that will make the journey even easier!